Postpartum Psychosis and Anxiety After Childbirth
Obviously, a blog about my lived experience with anxiety cannot reflect experiences I'm incapable of having: postpartum psychosis and anxiety after childbirth, for example. Thankfully, I speak with a lot of people and recently had the pleasure of meeting Jennifer Hentz Moyer. She was kind enough to share some of her story about dealing with anxiety and postpartum psychosis with us.
Tell the readers your name and a little about you.
I am Jennifer Hentz Moyer. I am a mental health advocate, speaker and author of the book, A Mother's Climb Out of Darkness. My mission is to bring hope and inspiration to individuals and families facing mental health challenges, especially in the area of mental health as it relates to childbearing.
What is Postpartum Psychosis and Anxiety?
In your own words, what is postpartum psychosis and how does it intersect with anxiety?
Postpartum psychosis is the most serious and rarest mental illness related to childbearing. Although it is rare, it can occur in as many as 4 out of 1,000 births (Gaynes, et. al). The symptoms can include severe insomnia, paranoia, delusions (false beliefs), anxiety and possibly even hearing or seeing things. In my case, my fear and anxiety became so great that it caused me to be unable to sleep for several days.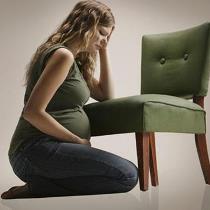 Did you have anxiety before the baby?
My first pregnancy ended in miscarriage at eight weeks so I did not want to get too excited about the second pregnancy until I got to hear the baby's heartbeat at 12 weeks. Once I knew the baby was okay, I began to relax and enjoy my pregnancy going on to have no complications during my pregnancy. I did have a very difficult labor and delivery but recovered and was doing well by the time my baby was two weeks old.
How many children do you have? Did you have issues after every birth?
I have one child since my first pregnancy ended in a miscarriage. I experienced normal grief and loss after my first pregnancy. My second pregnancy went well but at eight weeks postpartum, I was struck with postpartum psychosis.
Advice on Postpartum Psychosis and Anxiety
What advice do you have for women who want to have children but are afraid of a negative outcome postpartum with anxiety or psychosis?
I think women should educate themselves about the risks and symptoms correlating to mental illness related to childbearing. Education is empowering and even the most challenging situations can be overcome and a preventive plan of care can be put in place. I do not agree with professionals or anyone that tell mothers they should not have a baby due to a mental health history. I believe it is a personal decision for each woman. Whatever a woman decides she should be able to make an informed decision and she deserves the right to be equipped with knowledge and resources in order to have a positive outcome.
Knowing what you know now, would you have children again?
I would go through it all again in order to have my son in my life. I was open to having more children but I have not had a successful pregnancy since my son was born. Although the postpartum experience I had was devastating, it has helped shape me into the person I am today. Without my experience, I would not be able to help women and families know that they can overcome postpartum psychosis or any mental health challenge related to childbearing.
Anything else to add?
Thank you for enabling me to share. If you want to learn more about my book or story, please visit my website, also titled A Mother's Climb Out of Darkness.
You can find Gabe on Facebook, Twitter, Google+, LinkedIn, and his website.
APA Reference
Howard, G. (2015, February 4). Postpartum Psychosis and Anxiety After Childbirth, HealthyPlace. Retrieved on 2023, June 9 from https://www.healthyplace.com/blogs/anxiety-schmanxiety/2015/02/postpartum-psychosis-and-anxiety-after-childbirth
Author: Gabe Howard
Interesting. Pregnancy seemed to kick off my anxiety years ago. I fully believe in a hormonal link.
Women also seem to start getting anxiety at certain hormonal touchpoints...menarche, early 20s, menopause.
In my experience, the baby was very much wanted. Postpartum psychosis does not discriminate and can happen to any mother regardless of a history of mental illness or whether or not the baby is planned or not. Of course, an unwanted pregnancy can cause an array of emotions but it is not the cause of postpartum psychosis. Check out this website to learn more facts about postpartum psychosis: http://postpartum.net/Get-the-Facts/Postpartum-Psychosis.aspx
Post-Partum psychosis is a growing problem in the modern world considering the contemporary time. Every woman around the world is affected by it at some point or the other. But,my question is wouldn't you agree that a part reason for the Post-Partum Psychosis to occur is the innate feeling of not having a child,or being a 'Bad Mother' which comes from within even before the child is born to an extent where women even try to find reasons to end the life of their foetus even before they are born because they are too repulsed by the idea of having a child in their arms whom they won't be able to coddle? Wouldn't that affect the mind of a woman psychologically to an extent where she won't be able to associate herself with her own child when given the opportunity? Just a thought,that's all.
In my experience, the baby was very much wanted. Postpartum psychosis does not discriminate and can happen to any mother regardless of a history of mental illness or whether or not the baby is planned or not. Of course, an unwanted pregnancy can cause an array of emotions but it is not the cause of postpartum psychosis. Check out this website to learn more facts about postpartum psychosis: http://postpartum.net/Get-the-Facts/Postpartum-Psychosis.aspx
Leave a reply