Living in Spite of Anxiety
Living with generalized anxiety disorder or social anxiety disorder can be frustrating. (And isn't that the understatement of the century?) We work hard to rid ourselves of anxiety, reading articles and books, participating in conversations, learning techniques to fill our anxiety toolboxes, seeing therapists, and more. Take heart: these things work and anxiety can disappear. It's a process, though, and not a quick one. What can we do to get by while we are working on diminishing our anxiety?
Anxiety Says We Can't Live Without It, But Anxiety is Wrong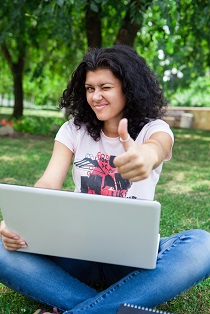 Anxiety tells us that we can't live in the world. Sometimes it goes so far as to tell us that we don't even deserve to live in the world. It dictates our thoughts, making sure we worry and feel fearful. It's tempting to listen to anxiety and just give up; however, that's no way to live. Most, if not all, people want to live fully; therefore, people seek help, and help is there.
There is something that we can learn to do so we can live our lives well while we are working on treating our anxiety. This something is a technique that came to us through a pioneer in psychology by the name of Alfred Adler. He created an entire approach to psychology and therapy called individual psychology (the theory is also called Adlerian Psychology).
To Live in Spite of Anxiety, Act As If It's Gone
There's quite a bit to individual psychology, including techniques that people can use to deal with what's plaguing them, including anxiety. Something particularly useful in helping us live in the world while we're still dealing with anxiety is an approach called acting-as-if (or fake-it-'til-you-make-it).
When we act-as-if, we go about life as we would if our anxiety is already gone. The anxiety is still there, but we pretend it isn't. This isn't so much tricking ourselves into thinking we don't have anxiety (because let's face it, anxiety is hard to just ignore) as it is shunning that anxiety and being how we want to be despite anxiety's presence.
I discuss this further as well as explain how to go about acting as if anxiety doesn't exist in this short video:
You can also connect with Tanya J. Peterson on her website, Google+, Facebook,Twitter, Linkedin and Pinterest.
APA Reference
Peterson, T. (2015, January 29). Living in Spite of Anxiety, HealthyPlace. Retrieved on 2023, May 29 from https://www.healthyplace.com/blogs/anxiety-schmanxiety/2015/01/living-in-spite-of-anxiety
Author: Tanya J. Peterson, MS, NCC, DAIS
Great article! One of my strategies to help, is to blog about it too! It helps to share secrets because we all have different tricks and some funny stories too. Www.theanxiousturtle.com
"This isn't me, I'm actually a high functioning, smart person!"
This is something I hear people say when they are accessing mental health services. Stating this as if they are smart enough to think themselves out of mental illness.
Typically the person saying this is well-educated and, in our societies terms, an overall high functioning person. Having mental health challenges does not mean you're not smart. This idea is bogus. The fact that I hear it so often, shows the stigma- still stuck to like glue mental health challenges and the people who access mental health services. Many highly functional people do have mental health challenges at some point in their lives.
In fact, According to Stats Canada, one in four Canadians experience an anxiety disorder in their lifetime.
17% of Canadians 15 and older perceived that they required mental health services in 2012.
In the US, 2.5% of the population have Bipolar and 1% have Schizophrenia.
All kinds of people access mental health services. No matter how smart you are, you can't think yourself into mental health. In fact, often the opposite is necessary. Often one needs to stop thinking, slow the thoughts, and calm the mind. Doing this reduces anxiety and gives ease to the mind and body. These two things are the most common symptoms I see people accessing services for, followed by suicidal ideation which trots along shortly behind, if things aren't dealt with.
In life all kinds of things can and will go wrong. Things will get hard and there will be times when you aren't taking care of yourself as well as you could be. You might need help along the way from a mental health professional. If and when you do, understand that this is you in this moment. It's not all that you are, but it's a part of your experience of the now. This is a part of your journey. It's okay, it doesn't mean that you're not smart.
Smart people have mental health challenges. Famous people have mental health challenges too and slowly more of them are publicizing this aspect of themselves including the following:
Vincent Van Gogh, John Nash, Carrie Fisher (Princess Leiah), Kurt Cobain, Mel Gibson, Brooke Shields and of course Robin Williams.
In fact, researchers at the University of Toronto and at the Samuel Lunenfeld Research Institute of Mount Sinai Hospital found a protein, called the neuronal calcium censor protein 1, that is linked to curiosity and spacial memory. This protein is also linked to Bipolar and Schizophrenia.
They found is straight A students are more likely to have either of these disorders, more so for people who excel in humanities than people who excel in sciences. Another study found similar correlations between A grade students in music and language courses and a diagnosis Bipolar.
The correlations found have not been consistent enough to be used for anything further than interesting findings; however, they do provide one an appealling flavor of food for thought.
Your mental health is never stagnant. It's changing with every moment you live. You don't know your future and that's what makes life interesting. If you stumble across mental illness along your journey, it doesn't mean you are not smart. It doesn't mean that you are smart either. It simply means that you are a human going through an experience. Embrace it's teachings.
***
RESOURCES
http://www.medicaldaily.com/why-smarter-people-are-more-likely-be-mentally-ill-270039
This really does work, I got to the point where I just stopped caring if I felt anxious anymore, I decided I was just going to get on with whatever I needed to in spite of the way I felt. The more I did it the less I felt the anxiety. I used it to drive me forward, not hold me back!
Leave a reply