Talking To Your Doctor About Anxiety Medication
Anxiety can be overwhelming, impacting us in every way imaginable – physically, emotionally, cognitively, and socially. It can range from mild to debilitating, and no matter to what degree we experience anxiety, it affects the quality of our lives. Happily, there are many things that can be done to treat anxiety. One way is through anxiety medication (but medication is not for everyone). There are so many different types of anxiety medication available; though, just contemplating whether or not to try antianxiety medication can itself be anxiety-provoking (list of anxiety medications). It's an individual decision that can only be made with a doctor. Here are some important things to consider as you talk to your doctor about anxiety medication.
The Decision to Begin or Change Anxiety Medication is Complicated
Anxiety medications are quite complex. There are a variety of classifications, and different people respond differently to each one. Something that works great for one person might not work at all, or may even worsen anxiety, for someone else.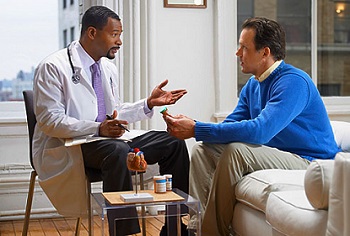 Because anxiety medication is so complex, it's important to discuss options openly with your doctor. Professional input is essential in the decision to begin or alter medication. At the same time, it's equally important that you feel that you have a say in the decision; after all, it's your brain and your body that are impacted by anxiety and anxiety medication.
When you take time to gather your thoughts and organize your experiences prior to an appointment, you can work alongside your doctor to make informed medication decisions.
Checklist for Talking to Your Doctor About Anxiety Medication
Knowing yourself, your anxiety, and what, specifically, you want to see happen if you begin medication treatment will help you and your doctor find the right medication for you. Use this checklist to help guide your discussion with your doctor:
1. What is going on with me right now?
Physically
Emotionally
With my relationships
With general functioning
2. How is my anxiety different from what it has recently been?
3. Are there events in my life that might be contributing to my anxiety symptoms?
4. What have I already tried?
Exercise
Relaxation
Nutrition (including drinking plenty of water)
Meditation
Deep breathing
Engaging in pleasurable activities
Etc.
5. Scale it.
On a scale of 1 to 10, how intense is my anxiety? What number do I need it to be in order to feel more in control?
6. What are you hoping, specifically, that medication might do?
7. What anxiety medication side effects are you worried about?
After completing this checklist, you will better understand your goals for medication, and you will be better equipped to have a thorough discussion with your doctor. Going into the conversation with insight will help you achieve results that satisfy you.
Connect with Tanya on Facebook, Twitter, Google +, LinkedIn, her books, and her website.
APA Reference
NCC, T. (2014, November 6). Talking To Your Doctor About Anxiety Medication, HealthyPlace. Retrieved on 2019, August 21 from https://www.healthyplace.com/blogs/anxiety-schmanxiety/2014/11/talking-to-your-doctor-about-anxiety-medication
Author: Tanya J. Peterson, MS, NCC