Self-Medicating for Anxiety Myths and Facts
When it comes to anxiety, it is important to separate the myths from the facts. There are plenty of anxiety myths we believe to help cope with our symptoms but many of us run into trouble when the myths we believe are simply not true. Perhaps one of the most common and dangerous anxiety myths is that self-medicating can help us get through an anxiety-provoking situation.
While the myth says that a drink or two might curb your anxiety in a social situation, the facts show that self-medicating produces only a short-term effect that leads us to avoid the actual source of our anxiety. The simple truth is that self-medicating with alcohol, marijuana or even cigarettes is an avoidance behavior that can cause more mental and physical health problems than it aims to correct.
Self-Medicating for Anxiety at a Glance
Most of us living with an anxiety disorder understand the appeal of using alcohol, drugs or cigarettes to get through difficult moments. Whether we are looking to manage social anxiety or real, emotional pain, it is easy to fall victim to the belief that a few drinks or maybe some marijuana can safely take the edge off. The concept of self-medicating is really quite simple.
First, we experience a down mood or anxious feeling. When anxiety, depression and other common symptoms of an anxiety disorder hang around for too long, we often find ourselves unable to manage them. A couple of drinks suddenly make us feel lighter, more confident, less self-conscious and better able to cope with our feelings. Before we know it, anxiety, worry and depression seem to fade away.
When Self-Medicating for Anxiety Turns to Dependency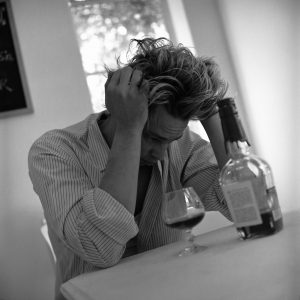 Unfortunately, the problems that follow the short-lived benefits of self-medicating are harder to notice. One of the most common problems is that we slowly but surely begin to depend on substances to cope with anxiety.
Essentially, we develop a "solution" for our anxiety without ever learning how to cope with it on our own. We remove our inner ability to manage anxiety and replace it with a quick fix. If you have an anxiety disorder, then a dependency on alcohol, marijuana or other substances can not only keep you from addressing and resolving the actual problem but also take you further away from finding your own inner ability to cope with your anxiety symptoms. In the end, there is one very important concept that people with an anxiety disorder need to understand about self-medicating.
Particularly in people with social anxiety, alcohol, marijuana and other substances fulfills our desire to hide or mask our embarrassing or otherwise uncomfortable feelings (How to Avoid Feeling Socially Awkward). The problem people with an anxiety disorder who self-medicate often face is a deepened dependency to use such substances. We easily get hooked on the idea of self-medicating and turn to it more often. When dependency deepens, so does our anxiety about the dependency. We essentially develop another behavior to hide.
The perpetual cycle of dependency creates increased anxiety, growing shame and a greater distance between you and your ability to rely on your own inner devices to cope with and manage anxiety and depression.
Finding Healthier Alternatives to Self-Medicating for Anxiety
The first step to overcoming anxiety is debunking the myths and understanding the facts. Hopefully, a clearer picture on the perpetual cycle of self-medicating as it relates to alcohol, substance abuse and dependence will lead you to turn to more healthy treatment methods such as exercise, healthy diet, regular sleep and perhaps cognitive behavioral therapy.
In the meantime, please feel free to share your own personal experiences or beliefs about the concept of self-medicating to cope with anxiety. Do you find that self-medicating makes it more difficult for you to manage anxiety in the long run? Also, what are some of the most successful treatment methods you use instead of self-medicating to cope with and manage anxiety?
You can also find Anthony D'Aconti on Google+, Facebook, Twitter
and his website, Breathe Into the Bag.
APA Reference
D'Aconti, A. (2013, November 6). Self-Medicating for Anxiety Myths and Facts, HealthyPlace. Retrieved on 2019, May 24 from https://www.healthyplace.com/blogs/anxiety-schmanxiety/2013/11/the-myths-and-facts-on-self-medicating-for-anxiety
Author: Anthony D'Aconti