Watching-the-News Anxiety
I know I feel it, the cantankerous anxiety that seeps into my soul when I watch the news. How with every murder report, every bomb, every child drowning, every political mudsling; my faith in the future shrivels up a bit. My helplessness fills to the brim.
So what is the answer? Not watch it? Avoid all negativity? Pretend it doesn't exist?
No.
Should You Avoid Watching the News?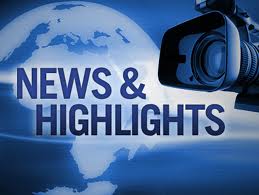 Avoiding what is hard is not the answer. When we watch the news, our anxiety swells. Because the horrible accounts make us feel stressed and helplessly vulnerable, they trigger a biological fear response. We feel the energy of our hormone release surging under our skin. But we are not in danger in that moment in our living room.
Having Control
We have to remember that it is our helplessness that increases our anxiety, rather than imminent danger. So if we feel like we can do something to change the world, or to change our city and community, or even to change our family or our selves, this will counter the anxiety.
After acting, we will begin to sense that we have some control over circumstances in this world. We may not be able to control everything that happens, but we do control our response to everything that happens. (Often this effects what happens next.)
And that is what matter more than anything. How we respond effects how we feel far more than what happened.
We hear about a person dying and we tell our partner we love him, we hear about war and we go hug our children. We write to a soldier, sponsor a child to go to school, donate money to Red Cross, visit a nursing home, write to a congress person, send a condolence card, donate a hard hat, write an article to spread awareness, protest an injustice, plant some seeds, check on a friend, pray, educate ourselves, register to vote, boycott, make a video, share some food, feel compassion, forgive someone, love an enemy.
Don't just watch the news, watch the news and act! You'll feel more full of love and purpose and less full of anxiety, I promise.
Do you watch or avoid the news?
By Jodi Lobozzo Aman
I blog here: Heal Now and Forever Be In Peace
and here: Anxiety-Schmanxiety Blog,
share here: Twitter@JodiAman, Google+
inspire here: Facebook: Heal Now and Forever Be in Peace,
Get my free E-book: What Is UP In Your DOWN? Being Grateful in 7 Easy Steps.
APA Reference
LCSW-R, J. (2012, October 3). Watching-the-News Anxiety, HealthyPlace. Retrieved on 2019, June 20 from https://www.healthyplace.com/blogs/anxiety-schmanxiety/2012/10/watching-the-news-anxiety
Author: Jodi Lobozzo Aman, LCSW-R