Treatments and Medications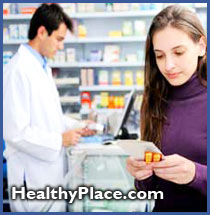 Q.I was first diagnosed with panic disorder about three years ago and I have since developed agoraphobia. I would be grateful for a referral to a CBT therapist as close to my location as possible. I have been on Xanax for almost three years (2.0 mg daily). Over the past two months, I have managed to reduce the dose to 1.125 mg. I didn't suffer any significant withdrawal symptoms until I reduced to 1.25 mg. At the moment, I am still going through hell. I am waking in the early hours of the morning with over-breathing, rapid heartbeat, nausea and uncontrollable shaking. Needless to say I am presently averaging about fours hours sleep per day.

The panic attacks and level of anxiety have increased markedly. I have discussed replacement (and subsequent taper) with my doctor but I am fearful of introducing another benzo into my system. Further, there are conflicting views on equivalent doses. My doctor says that 1.0 mg Xanax=5.0 mg , however, a detox center doctor says 0.5 - 1.0 mg Xanax=5.0 mg Valium.

I have previously tried to switch to Effexor, Prothiaden and Aurorix but I couldn't tolerate the changeover. I believe (having done some research) that it was wrong to abruptly stop the Xanax and immediately introduce a new medication. I understand that I should have replaced, say the morning dose of Xanax with the new medication, for a week or so, then the afternoon dose and then the evening dose. Anyway, I shall battle on with hope that CBT works for me. You may be interested to hear that I underwent four P.S.H. (Private Subconscious-mind Healing) sessions last year and in my opinion, they were a complete waste of time and money.

A. (Referral to CBT therapist given). In regards to your medication: The guidelines for the prescribing of any of the tranquillizers is for 2 - 4 weeks only. The tranquillizers, including Xanax can be addictive and some people may become addicted within four weeks. Xanax is one of the short-acting tranquillizers. With the short-acting ones, if people do become addicted, they may have withdrawal symptoms every 4-to-6 hours. Withdrawal includes anxiety and panic.

The federal government recommends people on the short-acting tranquillizers transfer over to the equivalent dose of Valium and once stabilized slowly withdraw the Valium. Valium in a longer-acting drug and prevents the 4-6 hour withdrawal. You MUST NOT simply stop taking these drugs. This can be very dangerous. You need to speak with your doctor and slowly withdraw the drug under medical supervision. This also applies to any transfer and withdrawal from Valium.

We realise you are feeling uncomfortable about changing to Valium, but it can really assist you in the Xanax withdrawals. (The referral) has the conversion rates and he has assisted many of our clients in this.

> I have previously tried to switch to Effexor, Prothiaden and Aurorix but I couldn't tolerate the changeover. I believe (having done some research) that it was wrong to abruptly stop the Xanax and immediately introduce a new medication. <

This was definitely wrong and could have caused major withdrawals. These drugs are anti depressants and work differently to the benzos. Effexor is an SSRI, Prothiaden is a trycyclic and Aurorix is a MAOI. Not only can they take up to six weeks to work, they will not help you in benzo withdrawal.

>I understand that I should have replaced say the morning dose of Xanax with the new medication for a week or so, then the afternoon dose and then the evening dose.<

No. You still would have had benzo withdrawal and you may have had side effects from the anti depressants. This is why everyone does need to see someone who really understands it all.

>Anyway I shall battle on with hope that CBT works for me. <
If you work at it, it will!! This is how we and so many of our clients have recovered.

>You may be interested to hear that I underwent four P.S.H. (Private Subconscious-mind Healing) sessions last year and in my opinion, they were a complete waste of time and money.<

Couldn't agree with you more!! When we saw the advertisement for this we just shuddered!
next: Finding the Right Treatment
~ all articles on insights into anxiety
~ anxiety-panic library articles
~ all anxiety disorders articles
APA Reference
Tracy, N. (2008, October 4). Treatments and Medications, HealthyPlace. Retrieved on 2023, December 11 from https://www.healthyplace.com/anxiety-panic/articles/treatments-and-medications
Last Updated: July 1, 2016