Anticonvulsants for Treatment of Panic Attacks
Learn about the benefits, side-effects and disadvantages of the anticonvulsant Depakote for treatment of panic attacks.
H. Anticonvulsant
Valproic Acid (Depakote)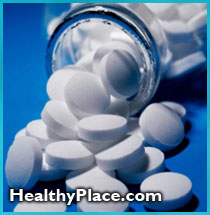 Valproic acid is an epilepsy medication that is now used for the treatment of panic attacks as well as other psychiatric problems.
Possible Benefits. Treatment of panic disorder.
Possible Disadvantages. Can cause bruising or bleeding when taken with aspirin. Can cause excessive sedation with alcohol and also with Klonipin or other benzodiazepines. Can cause liver problems. To monitor your liver function and your platelet count, your doctor may ask you to take a simple blood test every two months for the first six months and every three to four months after that. Avoid using during pregnancy and breast-feeding.
Possible Side Effects. Valproic acid is well tolerated. Nausea, vomiting, indigestion, headaches, confusion and drowsiness sometimes occur but usually subside in a few weeks.
Dosages Recommended By Investigators. Comes in 250 and 500 mg capsules. Dose is primarily based on body weight.
next: Beta-Blockers for Treatment of Anxiety and Panic Attacks
~ back to Anxieties Site homepage
~ anxiety-panic library articles
~ all anxiety disorders articles
APA Reference
Staff, H. (2009, January 3). Anticonvulsants for Treatment of Panic Attacks, HealthyPlace. Retrieved on 2023, December 10 from https://www.healthyplace.com/anxiety-panic/articles/anticonvulsants-for-treatment-of-panic-attacks
Last Updated: June 30, 2016