Botanical Dietary Supplements: Background Information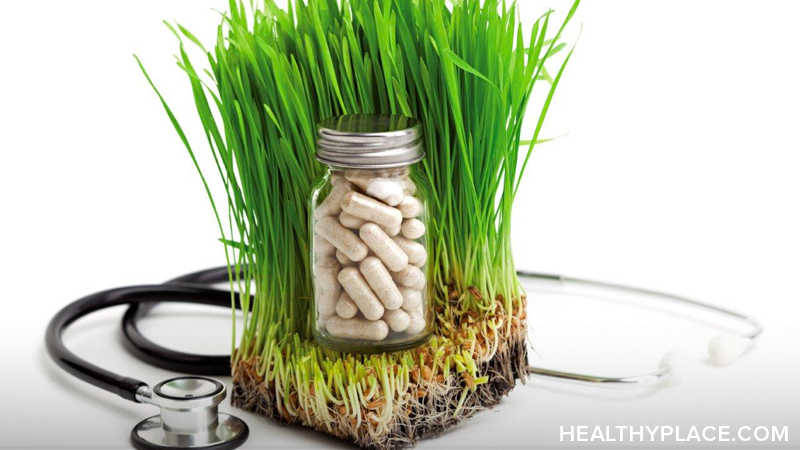 Herbal remedies, aka botanical dietary supplements, are popular for treating mental health conditions, but are they safe and effective? Find out.
Table of Contents
What is a botanical?
A botanical is a plant or plant part valued for its medicinal or therapeutic properties, flavor, and/or scent. Herbs are a subset of botanicals. Products made from botanicals that are used to maintain or improve health may be called herbal products, botanical products, or phytomedicines.
In naming botanicals, botanists use a Latin name made up of the genus and species of the plant. Under this system the botanical black cohosh is known as Actaea racemosa L., where "L" stands for Linneaus, who first described the type of plant specimen. In the Office of Dietary Supplements (ODS) fact sheets, we do not include such initials because they do not appear on most products used by consumers.
---
---
Can botanicals be dietary supplements?
To be classified as a dietary supplement, a botanical must meet the definition given below. Many botanical preparations meet the definition.
As defined by Congress in the Dietary Supplement Health and Education Act (http://www.fda.gov/opacom/laws/dshea.html#sec3), which became law in 1994, a dietary supplement is a product (other than tobacco) that
is intended to supplement the diet;
contains one or more dietary ingredients (including vitamins; minerals; herbs or other botanicals; amino acids; and other substances) or their constituents;
is intended to be taken by mouth as a pill, capsule, tablet, or liquid; and
is labeled on the front panel as being a dietary supplement.
How are botanicals commonly sold and prepared?
Botanicals are sold in many forms: as fresh or dried products; liquid or solid extracts; and tablets, capsules, powders, and tea bags. For example, fresh ginger root is often found in the produce section of food stores; dried ginger root is sold packaged in tea bags, capsules, or tablets; and liquid preparations made from ginger root are also sold. A particular group of chemicals or a single chemical may be isolated from a botanical and sold as a dietary supplement, usually in tablet or capsule form. An example is phytoestrogens from soy products.
Common preparations include teas, decoctions, tinctures, and extracts:
A tea, also known as an infusion, is made by adding boiling water to fresh or dried botanicals and steeping them. The tea may be drunk either hot or cold. Some roots, bark, and berries require more forceful treatment to extract their desired ingredients. They are simmered in boiling water for longer periods than teas, making a decoction, which also may be drunk hot or cold.

A tincture is made by soaking a botanical in a solution of alcohol and water. Tinctures are sold as liquids and are used for concentrating and preserving a botanical. They are made in different strengths that are expressed as botanical-to-extract ratios (i.e., ratios of the weight of the dried botanical to the volume or weight of the finished product).

An extract is made by soaking the botanical in a liquid that removes specific types of chemicals. The liquid can be used as is or evaporated to make a dry extract for use in capsules or tablets.
---
Are botanical dietary supplements standardized?
Standardization is a process that manufacturers may use to ensure batch-to-batch consistency of their products. In some cases, standardization involves identifying specific chemicals (also known as markers) that can be used to manufacture a consistent product. The standardization process can also provide a measure of quality control.
Dietary supplements are not required to be standardized in the United States. In fact, no legal or regulatory definition exists for standardization in the United States as it applies to botanical dietary supplements. Because of this, the term "standardization" may mean many different things. Some manufacturers use the term standardization incorrectly to refer to uniform manufacturing practices; following a recipe is not sufficient for a product to be called standardized. Therefore, the presence of the word "standardized" on a supplement label does not necessarily indicate product quality.
Ideally, the chemical markers chosen for standardization would also be the compounds that are responsible for a botanical's effect in the body. In this way, each lot of the product would have a consistent health effect. However, the components responsible for the effects of most botanicals have not been identified or clearly defined. For example, the sennosides in the botanical senna are known to be responsible for the laxative effect of the plant, but many compounds may be responsible for valerian's relaxing effect.
---
---
Are botanical dietary supplements safe?
Many people believe that products labeled "natural" are safe and good for them. This is not necessarily true because the safety of a botanical depends on many things, such as its chemical makeup, how it works in the body, how it is prepared, and the dose used.
The action of botanicals range from mild to powerful (potent). A botanical with mild action may have subtle effects. Chamomile and peppermint, both mild botanicals, are usually taken as teas to aid digestion and are generally considered safe for self-administration. Some mild botanicals may have to be taken for weeks or months before their full effects are achieved. For example, valerian may be effective as a sleep aid after 14 days of use but it is rarely effective after just one dose. In contrast a powerful botanical produces a fast result. Kava, as one example, is reported to have an immediate and powerful action affecting anxiety and muscle relaxation.
The dose and form of a botanical preparation also play important roles in its safety. Teas, tinctures, and extracts have different strengths. The same amount of a botanical may be contained in a cup of tea, a few teaspoons of tincture, or an even smaller quantity of an extract. Also, different preparations vary in the relative amounts and concentrations of chemical removed from the whole botanical. For example, peppermint tea is generally considered safe to drink but peppermint oil is much more concentrated and can be toxic if used incorrectly. It is important to follow the manufacturer's suggested directions for using a botanical and not exceed the recommended dose without the advice of a health care provider.
Does a label indicate the quality of a botanical dietary supplement product?
It is difficult to determine the quality of a botanical dietary supplement product from its label. The degree of quality control depends on the manufacturer, the supplier, and others in the production process.
FDA is authorized to issue Good Manufacturing Practice (GMP) regulations describing conditions under which dietary supplements must be prepared, packed, and stored. FDA published a proposed rule in March 2003 that is intended to ensure that manufacturing practices will result in an unadulterated dietary supplement and that dietary supplements are accurately labeled. Until this proposed rule is finalized, dietary supplements must comply with food GMPs, which are primarily concerned with safety and sanitation rather than dietary supplement quality. Some manufacturers voluntarily follow drug GMPs, which are more rigorous, and some organizations that represent the dietary supplement industry have developed unofficial GMPs.
What methods are used to evaluate the health benefits and safety of a botanical dietary supplement?
Scientists use several approaches to evaluate botanical dietary supplements for their potential health benefits and safety risks, including their history of use and laboratory studies using cell or animal models. Studies involving people (individual case reports, observational studies, and clinical trials) can provide information that is relevant to how botanical dietary supplements are used. Researchers may conduct a systematic review to summarize and evaluate a group of clinical trials that meet certain criteria. A meta-analysis is a review that includes a statistical analysis of data combined from many studies.
---
What are some additional sources of information on botanical dietary supplements?
Medical libraries are one source of information about botanical dietary supplements. Others include Web-based resources such as PubMed (http://www.ncbi.nlm.nih.gov/entrez/query.fcgi?holding=nih) and FDA (http://www.cfsan.fda.gov/~dms/ds-info.html). For general information about dietary supplements see Dietary Supplements: Background Information (http://ods.od.nih.gov/factsheets/dietarysupplements.asp) from the Office of Dietary Supplements (ODS), available at http://ods.od.nih.gov.
Disclaimer

Reasonable care has been taken in preparing this document and the information provided herein is believed to be accurate. However, this information is not intended to constitute an "authoritative statement" under Food and Drug Administration rules and regulations.
General Safety Advisory

The information in this document does not replace medical advice. Before taking an herb or a botanical, consult a doctor or other health care provider-especially if you have a disease or medical condition, take any medications, are pregnant or nursing, or are planning to have an operation. Before treating a child with an herb or a botanical, consult with a doctor or other health care provider. Like drugs, herbal or botanical preparations have chemical and biological activity. They may have side effects. They may interact with certain medications. These interactions can cause problems and can even be dangerous. If you have any unexpected reactions to an herbal or a botanical preparation, inform your doctor or other health care provider.
Source: Office of Dietary Supplements - National Institutes of Health
---
---
APA Reference
Staff, H. (2008, November 15). Botanical Dietary Supplements: Background Information, HealthyPlace. Retrieved on 2023, December 1 from https://www.healthyplace.com/alternative-mental-health/treatments/botanical-dietary-supplements
Last Updated: July 8, 2016