Supportive-Expressive Psychotherapy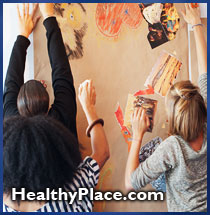 Supportive-expressive psychotherapy proves effective in treating hard drug users by helping them maintain gains made in addiction treatment.
Supportive-expressive psychotherapy is a time-limited, focused psychotherapy that has been adapted for heroin addicts and cocaine addicts. The therapy has two main components:
Supportive techniques to help patients feel comfortable in discussing their personal experiences.
Expressive techniques to help patients identify and work through interpersonal relationship issues.
Special attention is paid to the role of drugs in relation to problem feelings and behaviors, and how problems may be solved without recourse to drugs.
The efficacy of individual supportive-expressive psychotherapy has been tested with patients in methadone maintenance treatment who had psychiatric problems. In a comparison with patients receiving only drug counseling, both groups fared similarly with regard to opiate use, but the supportive-expressive psychotherapy group had lower cocaine use and required less methadone. Also, the patients who received supportive-expressive psychotherapy maintained many of the gains they had made. In an earlier study, supportive-expressive psychotherapy, when added to drug counseling, improved outcomes for opiate addicts in methadone treatment with moderately severe psychiatric problems.
References:
Luborsky, L. Principles of Psychoanalytic Psychotherapy: A Manual for Supportive-Expressive (SE) Treatment. New York: Basic Books, 1984.
Woody, G.E.; McLellan, A.T.; Luborsky, L.; and O'Brien, C.P. Psychotherapy in community methadone programs: a validation study. American Journal of Psychiatry 152(9): 1302-1308, 1995.
Woody, G.E.; McLellan, A.T.; Luborsky, L.; and O'Brien, C.P. Twelve month follow-up of psychotherapy for opiate dependence. American Journal of Psychiatry 144: 590-596, 1987.
Source: National Institute of Drug Abuse, "Principles of Drug Addiction Treatment: A Research Based Guide."
next: Individualized Drug Counseling
~ all articles on Principles of Drug Addiction Treatment
~ addictions library articles
~ all addictions articles
APA Reference
Staff, H. (2008, December 20). Supportive-Expressive Psychotherapy, HealthyPlace. Retrieved on 2023, September 25 from https://www.healthyplace.com/addictions/articles/supportive-expressive-psychotherapy-for-hard-drug-users
Last Updated: April 26, 2019