Common Terms Used When Discussing Dissociative Identity Disorder (DID)/Multiple Personality Disorder (MPD)
The Core: The original birth personality.
Personalities: The fragmented pieces of a child's psyche that holds trauma.
Hysterical Neurosis/Multiple Personality Disorder: The presence of two or more separate and distinct personalities who take turns using the body.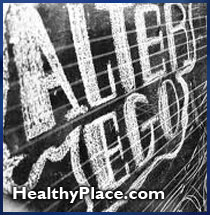 Other terms used for personalities: Alter egos, alter states, selves, parts (a subjective term).
Executive: When a personality (alter ego) has control of the body.
Host personality: Another term for the personality that has control of the body.
Dissociate: Webster's definition - to break the connection between or to disunite.
Switch: To switch from one personality to another.
Who's out? A common question used to determine which personality is executive or host.
Co-conscious(ness): (The Core) A state of being aware of what the other personalities are doing and saying.
Hysterical Conversion Symptoms/body memories: Physical phenomenon such as pain, smells, tastes, etc.; re-experienced again.
Re-live: A total memory recall (includes visual, emotional, physical and all other senses).
Dx: Internet Slang referring to the term 'Diagnosed'. When were you Dxed?=When were you diagnosed?
---
---
next:   Dissociative Identity Disorder/ Multiple Personality Disorder FAQ (frequently asked questions)
APA Reference
Staff, H. (2008, December 31). Common Terms Used When Discussing Dissociative Identity Disorder (DID)/Multiple Personality Disorder (MPD), HealthyPlace. Retrieved on 2023, December 1 from https://www.healthyplace.com/abuse/wermany/terms-used-when-discussing-dissociative-identity-disorder-did-multiple-personality-disorder-mpd
Last Updated: September 24, 2015