Psychological Effects of Rape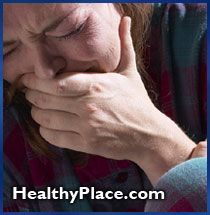 Topics on this page:
Anorexia Nervosa
What it is:

Anorexia is an eating disorder. A person suffering from Anorexia is obsessed with keeping their weight down, usually to a very unhealthy extreme. Survivors are prone to anorexia because it is a disease which thrives on low self-esteem, something that results from sexual assault. Anorexia can be deadly and needs to be treated. In most cases, this involves dealing with the underlying cause of Anorexia, the trauma of sexual assault.
Warning Signs:
Abnormally afraid of becoming fat.
Calorie and/or fat gram counting.
Restriction of food.
Starvation dieting.
The use of diet pills to control weight.
Amenorrhea - The absence of at least three consecutive menstrual cycles.
Body weight less than 85% of that expected for one's age and height.
Eating junk food, drinking a lot of coffee or tea, and/or smoking to control hunger pains.
What to do:
Anorexia is a serious disorder which needs immediate attention. Therapy is usually necessary to deal with the underlying cause of anorexia and medical attention may be necessary to repair the damage done by losing large amounts of weight.
---
---
Bulimia
What it is:
Bulimia is an eating disorder. A person suffering from bulimia binges (eats a large quantity of food) and then purges (either induces vomiting or takes laxatives so that food will not be digested and will pass directly through the body). Bulimia, like Anorexia, can be deadly and has underlying emotional causes.
Warning Signs:
Self-induced vomiting.
Using laxatives to prevent weight gain.
An obsession with gaining weight.
A fascination with food - buying cookbooks and food magazines.
Rapid consumption of large amounts of food.
Extreme guilt over food eaten.
What to do:
Like anorexia, bulimia is a serious disease which requires therapy and medical attention to overcome. Dental work may be required to repair the damage done to the back teeth (the back teeth are coated with stomach acid when a person suffering from bulimia purges, eating away the enamel and damaging the teeth).
HealthyPlace.com extensive information on Eating Disorders.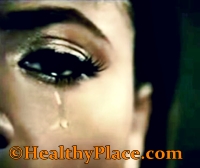 Self-Injury
What it is:
Self-Injury is deliberately harming oneself as a coping mechanism. It is caused by the emotional stress that the person is incapable, for whatever reason, of dealing with. For these people, Self-Injury is an escape, a way to relieve numbness, and an expression of pain.
Warning Signs:
Dysphoria - Experiencing depression, irritability, tension and sensitivity to rejection.
Self-hate.
Chronic anger or anxiety.
Impulsiveness.
Unexplainable bruises, cuts or burns.
What to do:
In order to stop the urge to self-injure, therapy is necessary. There are also constructive things one can do when they have the urge to self injure, such as: hitting a punching bag, using a pillow to hit a wall, pillow-fight style, ripping up an old newspaper or phone book, on a sketch or photo of yourself, marking in red ink what you want to do than cutting and tearing the picture, making Play-Doh or Sculpey or other clay models and cutting or smashing them, throwing ice into the bathtub or against a brick wall hard enough to shatter it, breaking sticks. Put a finger into a frozen food (like ice cream) for a minute, biting into a hot pepper or chewing a piece of ginger root, rubbing liniment under your nose, slapping a tabletop hard, snapping your wrist with a rubber band or taking a cold bath.
---
Suicide
What it is:
Most often caused by depression, suicide is a successful attempt to take one's life.
Warning Signs:
Depression - feeling hopeless, helpless, worthless.
Talking about or being obsessed with death and/or suicide.
Loss of interest in things previously considered important.
A sudden change in attitude. Suddenly happier or calmer.
Suddenly visiting people one cares about.
Giving things away and/or putting affairs in order.
What to do:
If you believe you are suicidal, talk to a friend you trust, tell a counselor, call RAINN at 1-800-656-HOPE or a suicide hotline in your area (you can find their number in the phone book).
Everything you want to know about Suicide.
Depression
What it is:
Depression is an illness which manifests itself as severe or prolonged sadness which interferes with a person's daily life and their ability to feel happy. People suffering from depression often feel worthless and lose their will to live. Depression is the number one cause of suicide.
Warning Signs:
Intense feelings of sadness, hopelessness, worthlessness, or anxiety.
Loss of energy. Feeling tired all the time.
Thoughts about death and suicide.
Decreased -- or increased -- sleeping or appetite.
Difficulty in concentrating or indecisiveness.
Mood swings.
Extreme irritability.
Impulsiveness that results in negative consequences.
---
---
What to do:
The symptoms of depression are treated with prescription drugs such as Paxil, Zoloft or Prozac. However, it is also important to seek counseling to treat the underlying cause of depression.
HealthyPlace.com Depression Community.
Posttraumatic Stress Disorder
What it is:
PTSD is an anxiety disorder brought on by an extremely traumatic psychological event (e.g. rape).
Warning Signs:
Flashbacks.
Nightmares.
Anxiety and/or Depression.
Sudden aggressive behavior.
Feelings of guilt.
Social withdrawal.
What to do:
The symptoms of PTSD (post-traumatic stress disorder) can be treated with an anti-depressant and there are also many therapies available that have had success with treating PTSD. The best thing to do is to find a counselor.
HealthyPlace.com information on PTSD.
Dissociative Identity Disorder
What it is:
A survival mechanism, Dissociative Identity Disorder (DID) occurs when extreme trauma causes a person to compartmentalize their pain, thereby creating multiple personalities. The onset of this disorder is in childhood, usually from ages three to nine, because it is still possible for them to break their developing "self" into multiple personalities.
Warning Signs:
Inability to recall important personal information.
Impaired social functioning.
Assumption of a new identity.
Loss of time.
What to do:
Therapy is required to treat the symptoms of DID.
If you have been raped or sexually assaulted, it's important to get professional treatment.
 next: Who's to Blame for the Rape
~ all Escaping Hades articles
~ all abuse library articles
~ all articles on abuse issues
APA Reference
Staff, H. (2008, November 17). Psychological Effects of Rape, HealthyPlace. Retrieved on 2023, December 3 from https://www.healthyplace.com/abuse/articles/psychological-effects-of-rape
Last Updated: May 5, 2019