Welcome to WeRMany...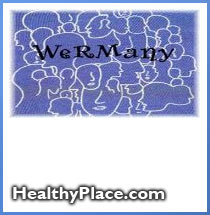 Lay aside fear and listen...take one lesson at a time or you will be lost. At this moment you must know, if you are ever to be a Front runner, that because "WeRMany", things happen to us in great numbers, all at one time. Sanity lies in separating those things, in dealing with them individually. Know now that there are those among us, calling out to be heard. They are small, helpless, dead ones-someone must listen to their voices. -- The Troops for Truddi Chase, "When Rabbit Howls"
where we focus on supporting people living with Multiple Personality / Dissociative Identity Disorder (MPD/DID). A diagnosis of MPD/DID is given to persons who perceive themselves, or who are perceived by others, as having two or more distinct and complex personalities. The person's behavior is determined by the personality that is dominant at a given time.
Inside, you'll find information about Me, the founder, MPD (DID)  in general (see the Reading Room for informative articles and information) and more.
Also, we offer  extensive online resources, information on trends and treatments, outlets for people dealing with MPD to share creative writing and drawing, and more.
Please visit the links on the left of the page to learn about Dissociative Identity Disorder, how to deal with it in life, how to support people living with it and many other valuable resources.
Welcome and I hope you benefit from visiting WeRMany.
---
---
next: My Story
APA Reference
Staff, H. (2008, November 15). Welcome to WeRMany..., HealthyPlace. Retrieved on 2023, December 9 from https://www.healthyplace.com/abuse/wermany/did-mpd
Last Updated: April 9, 2016