HealthyPlace.com Wins eHealthcare Leadership Awards
HealthyPlace.com Gets Gold for Best Overall Internet Health Site and Best Healthcare Content
For the third year running, HealthyPlace.com is pleased to announce it has been recognized as a leader in providing trusted mental health information by the eHealthcare Leadership awards. This year HealthyPlace.com has been awarded:
Gold in the award category of Best Overall Health Site
Gold in the award category of Best Healthcare Content
Distinction in the award category of Best Care/Disease Management site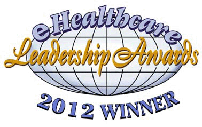 HealthyPlace.com holds awards in these categories alongside prestigious organizations like the American Foundation for the Blind and The Mount Sinai Medical Center. Both the Best Overall Health Site and the Best Healthcare Content categories drew the most heated competition.
Over 1100 entries were received for eHealthcare Leadership awards in 14 categories and were judged by 115 individuals familiar with healthcare and the internet. Sites were judged on over a variety of factors. For example, those in the Best Overall Health Site category were judged on over 40 factors including delivery of strong health content, interactivity and strength of web design.
Gary Koplin, President of HealthyPlace.com noted, "our whole team deserves the recognition for these awards. It is gratifying to know that the hard work put in by our editors, writers, bloggers and producers is being recognized by a leading awards program. Our Medical Director, Dr. Harry Croft, also deserves a big thank-you for helping us keep our content quality so high."
2012 marked a major overhaul of healthcare content on the HealthyPlace.com website. Major categories such as depression, addictions and self-injury have all been rewritten to reflect the most up-to-date information. HealthyPlace.com also debuted a brand new website design in 2012 that enhanced the user-friendliness of the site and improved access to the quality content.
"We aim to provide reliable, trustworthy information for all those living with or loving someone with a mental illness. These awards just mean we're on the right track and will spur us forward into 2013 with even more improvements to the site," says Koplin.
About the eHealthcare Leadership Awards
The eHealthcare Leadership Awards program was developed and first presented 13 years ago by eHealthcare Strategy & Trends, a leading industry resource published by Health Care Communications, Rye, NY. This leading awards program exclusively recognizes the very best websites and digital communications of healthcare organizations, online health companies, pharmaceutical/medical equipment firms, suppliers, and business improvement initiatives. These awards highlight the Internet's role in achieving an organization's business objectives and recognize the hard work that has gone into creating outstanding health websites and digital initiatives.
About HealthyPlace.com: America's Mental Health Channel
With one out of every five Americans suffering from some sort of mental or stress-related illness, HealthyPlace.com is a one-stop source for mental health information from experts and from people who are living with psychological disorders and their effects on a daily basis. The award-winning site provides up-to-the-minute information on psychological disorders and psychiatric medications from both a consumer and expert point of view.
For additional information, go to: http://www.HealthyPlace.com.
HealthyPlace Media Relations
David Roberts
media AT healthyplace.com
(210) 225-4388
APA Reference
Tracy, N. (2012, November 23). HealthyPlace.com Wins eHealthcare Leadership Awards, HealthyPlace. Retrieved on 2023, December 1 from https://www.healthyplace.com/about-healthyplace/media-center/healthyplacecom-wins-ehealthcare-leadership-awards
Last Updated: January 14, 2014