Schizophrenia Treatment Concerns Over New Implants and Injections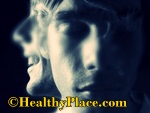 Powerful new implants and injections could soon revolutionize the treatment of schizophrenia and address the perennial concern of doctors and families that patients who stop taking their medicines may relapse into psychotic behavior. The new techniques could deliver medicine for weeks or even months at a time.
Proponents say such treatments, now in varying stages of development, could eliminate problems with patient compliance if they become widely prescribed.
The new techniques are collectively known as "long-acting" medicines because they involve injections that last for long periods and implants that release drugs slowly. The treatments will not cure schizophrenia, but doctors say they can help patients control their illness, with its delusional or disordered thinking and hallucinations, because they won't have to remember to take their medicine nearly as often.
Some advocates for the mentally ill are worried that new approaches could lead to coercive treatment. Proponents say the new technologies can increase patient choice while lowering the risk of side effects.
"Because it's a mental illness, there is much more fear of coercion," said John M. Kane, chairman of psychiatry at Zucker Hillside Hospital in Glen Oaks, N.Y. "But I think that may not take into consideration the nature of these diseases and how devastating they can be and how critical it is to prevent relapses and rehospitalization."
The antipsychotic medicines currently approved in injectable form in the United States come from an older class of drugs that cause severe side effects in many patients. Newer medicines called atypical antipsychotics have largely replaced the earlier drugs, but have not yet been made available in a long-acting form.
Now, Janssen Pharmaceutica Products L.P., the maker of risperidone, the country's most frequently prescribed atypical antipsychotic, is applying to the Food and Drug Administration to market an injectable version. Janssen said injectable risperidone has been approved in the United Kingdom, Germany, Austria, New Zealand, Mexico, the Netherlands and Switzerland.
Steven Siegel, a psychiatrist at the University of Pennsylvania, recently unveiled a device the size of a quarter that could be implanted in patients with schizophrenia. Siegel hopes the implants, which have yet to be tested in humans, could one day deliver antipsychotic medicine for a year at a time.
Trend Continues
It is difficult to predict when long-acting antipsychotics with the latest drugs might reach the market - but the trend toward these products is unmistakably on the horizon.
"In schizophrenia, we know that by the end of two years, 75 percent of people are not taking their medicine," said Samuel Keith, chairman of psychiatry at the University of New Mexico in Albuquerque, and a former chief of schizophrenia research at the National Institute of Mental Health.
Keith said everyone finds taking medicine difficult - people given a course of antibiotics often find they have a couple of unused pills by the last day. With schizophrenia, this forgetfulness can be compounded by the delusional and disordered thinking that are hallmarks of the illness.
"There is a part of logic that says, 'If I don't take a medication, that proves I don't have the illness,' " said Keith, who has helped test the injectable form of risperidone for Janssen.
"So someone with schizophrenia will say, 'I'm not going to take my medicine,' and the next morning they don't feel different, so they don't take it that day, either. For a couple of months, you can get away with it, but ultimately you will relapse."
Relapses can be terrifying and involve patients' hearing voices, seeing hallucinations and being unable to distinguish illusion from reality. Doctors say each relapse takes something from patients, leaving them with a longer, harder climb back to normalcy.
Kane said that hospitalizations, suicidal or aggressive behavior, homelessness, and lost jobs can follow. "Within a year, about 60 to 75 percent [of patients] will relapse without medication," he said in an interview.
Psychiatrist's Input
A major reason psychiatrists like long-acting medicines is that they facilitate monitoring patients since the implants would be put in place by a surgeon and injections would be administered by a nurse or another professional.
"If someone is on oral medicines, they could stop taking their medicines, and no one would know," said Kane, who also helped to test the injectable form of risperidone.
If a patient did not show up for an injection, however, Kane said doctors would have a couple of weeks, during which the previous shot was still potent, to make arrangements to bring in the patient for the follow-up injection.
The prospect of such techniques is raising concerns among some patients that the new treatments will be used coercively, effectively replacing the locked wards of mental institutions with what one advocate called a chemical straitjacket.
As states consider shifting laws that allow the forcible hospitalization of some psychotic patients to laws that force outpatient treatment, these advocates worry that injectable medicines may get used against the wishes of large numbers of patients.
"We hate the word 'compliance,' because it makes it sound like we have to be good little boys and girls," said Nancy Lee Head, who has schizophrenia and runs support group programs in Washington for the National Alliance for the Mentally Ill and the DC Mental Health Consumers' League.
Patients with schizophrenia, she said, want to be in charge of their treatment, just as patients with physical ailments manage their heart conditions or cancers. "Compliance is complying with what someone else has decided. If we are managing the illness, we are in charge."
Head questioned the need to have doctors administer the injections to keep tabs on patients. She cited her own management of diabetes: After she went on oral risperidone, she gained 45 pounds and had to start diabetes medicines - one of the side effects of atypical antipsychotics is weight gain. Head pointed out that diabetics are given the responsibility of injecting themselves, even though not taking medicine could have serious consequences.
Head said she was open to simplifying her medical regimen with injections - she was once on 64 pills a day. Having had relapses, she knows the terrifying feeling of being cut off from reality: She once asked her doctor, "Is my hand real?" and sometimes has felt so deadened by her illness that she has cut her hand just to feel something.
Forced Treatment Concerns
But Head is deeply uneasy about forced treatment. Although doctors may think forcing patients to take medicine is a form of compassion, Head said coercive treatment only added to her feelings of paranoia and helplessness.
Joseph A. Rogers, executive director of the Mental Health Association of Southeastern Pennsylvania, himself a patient with bipolar disorder, said he was not opposed to new treatments. However, he said he is concerned that pharmaceutical company marketing and doctors' talk about compliance would obscure the reality that the mental health system feels broken to many people with serious illnesses.
Patients on a biweekly injection regimen, for instance, might not have enough contact with doctors to discuss side effects, he said. "We're making it easier for states and local governments to find a cost-effective way to control people instead of treating people."
If patients are not given the right to "refuse these medicines, we could be creating a chemical straitjacket," he added.
Doctors such as Keith and Kane said they hoped the medicines would be given to patients with full informed consent. In fact, having patients decide to take an injection while they were healthy and capable of making a good decision ensured they would not deal with decisions about pills while experiencing mental distress.
Both doctors and patients agree that one of the greatest benefits of long-acting medicines is reduced side effects. Pills produce chemical peaks and troughs in the body, as the level of medicine fluctuates around the optimal level. The peaks tend to produce side effects.
Injections and implants, on the other hand, can deliver a steadier stream of medicine, smoothing out the peaks and troughs. Keith said the 4-milligram injectable form of risperidone, for instance, could deliver as much potency as a 25-milligram tablet, with the side-effect profile of only a 1-milligram tablet.
Ultimately, the effectiveness of the new techniques may depend less on the science and technology of the implants and injections, and more on realigning attitudes toward the treatment of schizophrenia.
"Implantable drugs may do an end run around compliance issues in the short term, but they'll do nothing to empower consumers to take part in their recovery," said Robert Bernstein, executive director of the Bazelon Center for Mental Health Law, an advocacy group.
Depending on how doctors and patients work together, he said, "Injectable psychotropics may be seen as an instrument of control, or as a more convenient way of taking medicine that consumers are already on."
In Europe, Keith said 30 percent to 50 percent of patients with schizophrenia receive long-acting antipsychotic injections: "It tends to go to the best patients because it's the best treatment available."
By contrast, barely 5 percent of American patients have tried the injectable version of the older drugs, and they have mostly been desperate patients. Siegel, the Penn psychiatrist, traced the roots of patients' concerns about coercion to the period in psychiatry when people with schizophrenia were seen as social problems to be controlled, instead of patients with a medical ailment who needed help.
"There is still a segment of the population that has a profound mistrust of psychiatry," he said. "We need people to understand we are not trying to do things to them, but things for them."
Source: By Shankar Vedantam, The Washington Post, Nov. 16, 2002
APA Reference
Gluck, S. (2002, November 17). Schizophrenia Treatment Concerns Over New Implants and Injections, HealthyPlace. Retrieved on 2023, December 3 from https://www.healthyplace.com/thought-disorders/schizophrenia-articles/schizophrenia-treatment-concerns-over-new-implants-and-injections
Last Updated: June 11, 2019