What Is Child Therapy? Types of Child Therapy and How it Works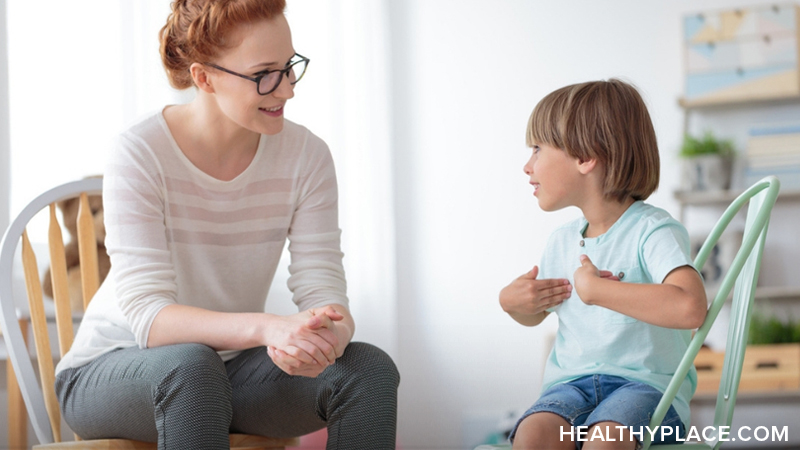 Child therapy is a type of mental health and behavior therapy that is designed specifically for children and their unique psychological and developmental needs. Typically, professionals providing child therapy work with kids ages three to 11 to help them improve their thoughts, emotional reactions, and behaviors so they can succeed at school, home, and beyond.
Does My Child Need Child Therapy?
When faced with a difficult child, many parents wonder if their child should see a therapist, psychologist, or other professional. Children aren't yet mature enough to handle certain problems, manage emotions, and always choose appropriate behaviors. Some tantrums and disobedience are normal and don't warrant child therapy, nor do ordinary stresses. However, there are situations that indicate that it might be time to consider counseling for your child. Child therapy can be useful when:
Occasional misbehavior becomes a pattern of problem behavior
Discipline efforts at home and school are no longer effective
Your child is struggling to adjust to a new situation, such as a new home, new school, or recent parent divorce
Getting along with other kids is difficult and causing problems for your child
Your child has experienced a trauma, such as a death in the family, abuse, etc.
Where to Find Therapy for Your Child
"Child therapy" is a broad, somewhat vague term that encompasses numerous techniques, methods, and settings. It's good for kids and families that there are multiple options, but they can be rather confusing. What follows is an overview of the types of child therapy and a brief description of how each aspect of child therapy works.
You can find therapy for your child in a variety of locations:
In your home (typically reserved for children and families with extreme mental health needs)
At school (many schools have counselors that help kids build behavior and social skills and manage emotions)
Community-based therapy centers or individual counseling offices, both public and private (these provide child therapy individually or in groups; sessions are often 45-60 minutes
Inpatient services (hospitals and residential treatment centers in which children stay for a period of time)
Day treatment programs (kids attend programs all day and return home at the end of the day, to return the next day)
School-based and community-based centers or offices are the most common child therapy settings to help any child build skills to navigate their world. Inpatient, day treatment, and other intense treatment centers are reserved for children with severe behavior and emotional problems beyond what mainstream child therapy can address.
How Does Child Therapy Work?
Child therapy sometimes involves only the child. Other times, the child and their family attend sessions together. Depending on the child and the situation, group counseling might be helpful, either with groups of children building similar skills or, less commonly, multiple families are part of the counseling process, too.
Types of Child Therapy
A child therapist chooses from a plethora of methods and counseling approaches. Many are similar to adult therapeutic approaches, but the therapist adapts them to be appropriate for children. Some of the common types of child therapy that your child might experience are as follows.
Applied behavior analysis teaches behavior skills, like social skills and self-management, in real-life settings rather than in a counseling office to make them more relatable.
Behavior therapy helps kids replace problem behaviors with effective new ones.
Cognitive therapy focuses on helping kids change the thoughts that are causing stress and anxiety.
Cognitive behavior therapy (CBT) or trauma-focused CBT emphasizes teaching children specific behaviors while also helping them understand how thoughts and behaviors are connected.
Exposure therapy is useful in addressing strong anxieties and phobias and gently helps kids face their fear.
Parent-child interaction therapy counsels parents and child (typically aged three to eight) together to help improve the relationship by teaching parenting and behavior skills.
Play therapy uses toys, sand, games, and other child-friendly activities to let kids express problems, thoughts, and feelings naturally, which allows the therapist to know how to help ("What Is Play Therapy? Definition, Types and Benefits").
Many child therapy techniques can be effective. The thing that makes any approach successful is the therapeutic relationship that forms between the therapist and the child.
In general, therapists use child therapy techniques to teach skills and have kids practice the skills so they can better use them in their lives. While avoiding a barrage of direct questions, they talk openly with kids, ask non-threatening questions to encourage kids to talk about their situation and problems. 
Also, child therapy works by letting kids be kids. They play, draw, and move—within the structure set by the therapist.  These techniques and more are ultimately about fostering communication. It's communication that leads to positive changes in behavior and emotions, which is quite often the reason for child therapy.
APA Reference
Peterson, T. (2022, January 11). What Is Child Therapy? Types of Child Therapy and How it Works, HealthyPlace. Retrieved on 2023, December 10 from https://www.healthyplace.com/parenting/child-therapy/what-is-child-therapy-types-of-child-therapy-and-how-it-works
Last Updated: January 17, 2022