End the Isolation Caused by Mental Illness
HealthyPlace Mental Health Newsletter
Here's what's happening on the HealthyPlace site this week: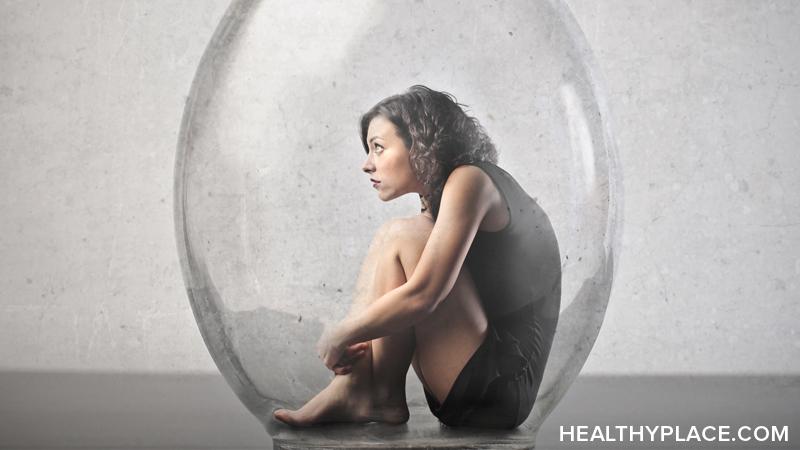 End the Isolation Caused by Mental Illness
Living with mental illness can create a sense of isolation and loneliness. Sometimes, just leaving the house can lead to anxiety and panic attacks. Depression and so many other mental health disorders can make people want to isolate because being alone, in a quiet, calm place, feels easier than facing the overstimulating world. Yet it is by ending the isolation that we achieve mental health.
Wanting to end the isolation can be hard. What are people supposed to do when they feel isolated and would like to reach out? Try these tips for reaching out and connecting to overcome isolation.
Start small. Don't pressure yourself to crash a wedding and be the life of the party. Small steps are what lead to big life satisfaction.
Do what you love. Use a service such as meetup.com or read the community events section of your local newspaper to find interest groups that appeal to you.
Volunteer. Offer an hour of your time a week at a humane society, soup kitchen, or whatever appeals to your strengths and interests.

Isolation is tempting, but it can increase mental illness symptoms and lead to a loneliness that is hard to shake. Use your interests to begin to reach out. Connection, and wellbeing, are possible.
Related Articles Dealing with Isolation and Mental Illness
Your Thoughts
Today's Question: How do you deal with the isolation and loneliness that comes along with mental illness? We invite you to participate by sharing your thoughts, knowledge, and experiences on the HealthyPlace Facebook page and on the HealthyPlace Google+ page.
---
---
From the HealthyPlace Mental Health Blogs
On all our blogs, your comments and observations are welcomed.
Feel free to share your thoughts and comments at the bottom of any blog post. And visit the mental health blogs homepage for the latest posts.
------------------------------------------------------------------
From HealthyPlace YouTube Channel
Surviving Anxious Times with Bipolar Disorder
Those of us with a mental health condition, such as bipolar disorder, are sensitive to people's emotions. It intensifies our anxiety, depression, and paranoia when our surrounding environment seems a bit out of control.
------------------------------------------------------------------
Most Popular HealthyPlace Articles Shared by Facebook Fans
Here are the top 3 mental health articles HealthyPlace Facebook fans are recommending you read:
If you're not already, I hope you'll join us/like us on Facebook too. There are a lot of wonderful, supportive people there.
------------------------------------------------------------------
Mental Health Quote
"Some days I can conquer the world, other days it takes me three hours to convince myself to bathe."
Read more bipolar quotes.
------------------------------------------------------------------
That's it for now. If you know of anyone who can benefit from this newsletter or the HealthyPlace.com site, I hope you'll pass this onto them. You can also share the newsletter on any social network (like facebook, stumbleupon, or google+) you belong to by clicking the links below. For updates throughout the week, circle HealthyPlace on Google+, follow HealthyPlace on Twitter or become a fan of HealthyPlace on Facebook. Also, check out HealthyPlace on Pinterest and share your mental health pins on our Share Your Mental Health Experiences board.
back to: HealthyPlace.com Mental-Health Newsletter Index
APA Reference
Peterson, T. (2017, March 14). End the Isolation Caused by Mental Illness , HealthyPlace. Retrieved on 2023, December 3 from https://www.healthyplace.com/other-info/mental-health-newsletter/end-the-isolation-caused-by-mental-illness
Last Updated: May 8, 2017