Animal Assisted Therapy for Your Mental Health
Here's what's happening on the HealthyPlace site this week:
---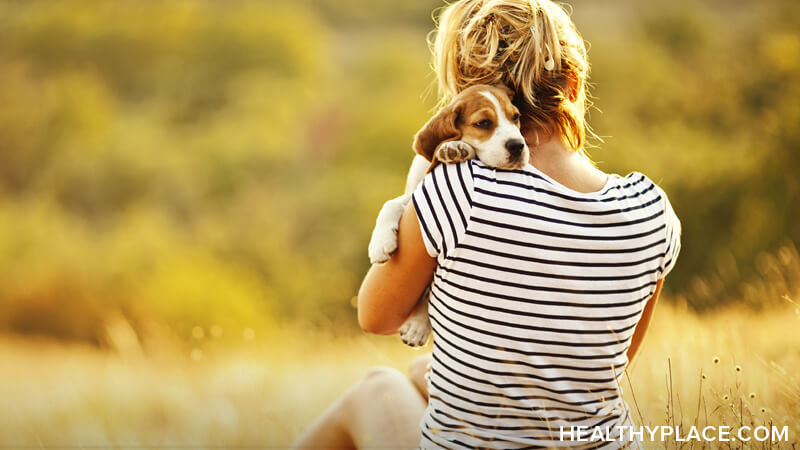 Animal Assisted Therapy for Your Mental Health
Animals help human mental health. Animal-assisted therapy (AAT), sometimes called pet therapy, is a great tool for mental health help.
I'm sure you know of the service dogs that help the blind find their way or warn someone with epilepsy of a seizure before it starts. Service dogs aren't the only helping animals. Others (primarily dogs but some cats, horses, llamas, or small animals) provide animal therapy or emotional support.
AAT: How Animals are Used to Give Mental Health Help
Animal-assisted therapy is mental health therapy that involves the use of a dog or other animal. A therapist or other professional owns the animal and takes it to various settings such as clinics, schools, hospitals, shelters, and more. If it's a large animal, clients come to the animal and therapist. The animal is an integral part of mental health therapy for individuals and groups.
Emotional support animals are used by people who have a verifiable disability and need the emotional support of an animal in order to keep living independently. An emotional support animal isn't a pet. It provides a specific mental health service.
Whether people interact with an animal through AAT or own an animal for emotional support, they can reap numerous benefits. Interacting with animals can help decrease depression and anxiety, improve mood, provide comfort, decrease loneliness, increase socialization, and so much more. Feeling connected to and grateful for these gentle helpers also boosts mental health.
Related Articles Dealing with Animal Therapy and Support
Your Thoughts
Today's Question: Have you experienced animal-assisted therapy (AAT)? If so, how did it help your mental health? We invite you to participate by sharing your thoughts, knowledge, and experiences on the HealthyPlace Facebook page and on the HealthyPlace Google+ page.
---
---
From the HealthyPlace Mental Health Blogs
On all our blogs, your comments and observations are welcomed.
Feel free to share your thoughts and comments at the bottom of any blog post. And visit the mental health blogs homepage for the latest posts.
------------------------------------------------------------------
From HealthyPlace YouTube Channel
I'm Hannah. I Have Bipolar 2
Bipolar Disorder and Self-Love
When you have bipolar disorder, self-love is a challenge and a significant obstacle to overcome. I know because it took me a long time to attain self-love living with bipolar 2 disorder. (Watch Hannah)
-----
I'm Veronica. This is My Life with Depression
Bottling Up Your Emotions is Not the Answer
For those of us with major depression, one thing we tend to do is bottle up our emotions. We say "I'm fine." when we're not. We pass up expressing happiness or anger because it takes psychic and physical energy to do both.
------------------------------------------------------------------
Most Popular HealthyPlace Articles Shared by Facebook Fans
Here are the top 3 mental health articles HealthyPlace Facebook fans are recommending you read:
If you're not already, I hope you'll join us/like us on Facebook too. There are a lot of wonderful, supportive people there.
------------------------------------------------------------------
Mental Health Quote
"Anxiety is not being able to sleep because you said something wrong two years ago and can't stop thinking about it."
Read more anxiety quotes.
------------------------------------------------------------------
That's it for now. If you know of anyone who can benefit from this newsletter or the HealthyPlace.com site, I hope you'll pass this onto them. You can also share the newsletter on any social network (like facebook, stumbleupon, or google+) you belong to by clicking the links below. For updates throughout the week, circle HealthyPlace on Google+, follow HealthyPlace on Twitter or become a fan of HealthyPlace on Facebook. Also, check out HealthyPlace on Pinterest and share your mental health pins on our Share Your Mental Health Experiences board.
back to: HealthyPlace.com Mental-Health Newsletter Index
APA Reference
Peterson, T. (2017, October 31). Animal Assisted Therapy for Your Mental Health, HealthyPlace. Retrieved on 2023, December 8 from https://www.healthyplace.com/other-info/mental-health-newsletter/animal-assisted-therapy-for-your-mental-health
Last Updated: November 1, 2017