Hermaphrodite Porn is Faked
Hermaphrodite porn on the web is faked. Those depicted are mostly normal women posing with false penial prosthetics or are pre-operation transsexuals. (The sexualizing pornographers make these fakes.)
In today's world, most hermaphrodites are altered into women by surgery under AMA Standards of Care or appear totally male. Although many have very small genitalia and many choose gay or lesbian lifestyles, some do marry.
The idea of a dual sexuality, as pictured in current adult popular culture, is mostly untrue (the reality is it's not an enviable position to be in.) Yet the idea of the hermaphrodite as an object of love and sexual desire has fascinated artists throughout history. Some more artistic renderings are pictured below.
If you have comments or knowledge of the source, or description of these images, please email me. I also welcome non-copyrighted images or art of hermaphrodites.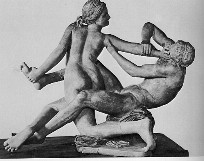 SATYR AND HERMAPHRODITE
Presented by Jamie Ledbetter, Kent School class of 2000
This Greek statue is a Hellenistic work of art, created around 150 B.C. Later on however, a Roman copy was made of this statue. This statue is clearly hellenistic because of its stunning realsim and lifelike activity. Although it may have looked better when it was first created, one can still appreciate the amazing artistic aspects which give the piece beauty as well as meaning. This statue, as well as most other Hellenistic statues tell a story of an important event, myth, or perhaps a legend in the famous age of the Greeks.
This work of art was created in the Hellenistic era, which expains the nature of this statue. In this statue, and battle goes on between Satyr and a Hermaphrodite. Like most Hellenistic works of art, this piece expresses great emotion and determination. Clearly there is emotion in the faces of both people, especially the struggle and look of frustation in the face of Satyr. In addition, what can also be noted is that neither of the bodies are perfect beautiful bodies which were considered ideal by Greek standards. This is one way in which Hellenistic art differed from classical art. Instead in striving to achieve the perfection of the body, Hellenistic art was mainly the portrayal of bodies as they were, and sometimes the bodies were grotesque. The hermaphrodite is grotesque and in no way considered the ideal body to have, and the Satyr's body is not perfect as well. Hellenistic art takes a natural, rational, and humanistic approach to life. The Satyr's body is not a large, powerful muscle-bound body. Rather, it is a normal body for a middle-aged man. The focus of this piece is a fight between two people, which is common for a Hellenistic piece.
Bibliography:
Stewart, Andrew. Greek Sculpture: An exploration. New Haven: Yale University Press, copyright 1990.
Title Unknown #2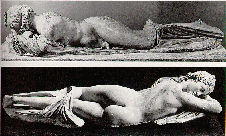 Title Unknown #3

---
---
next: Sexpolice
~ all inside intersexuality articles
~ all articles on gender
APA Reference
Staff, H. (2007, August 9). Hermaphrodite Porn is Faked, HealthyPlace. Retrieved on 2023, December 1 from https://www.healthyplace.com/gender/inside-intersexuality/hermaphrodite-porn-is-faked
Last Updated: March 14, 2016