Genes That Predispose Some People to Anorexia and Bulimia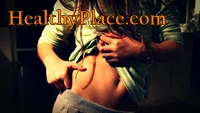 Examination on the impact of the environment on the activation of personality traits displayed in humans, while offering the views of Walter Kaye and Wade Berrettini, who are conducting studies on genes that predispose some persons to anorexia and bulimia. Occurrence of anorexiabulimia during the 17th, 16th and 19th centuries; Role of deoxyribonucleic acid (DNA) in detecting the cause of eating disorders in individuals. and
On any list of the dark side of modern culture, anorexia and bulimia would rank high. But a radical view holds that while binging, purging, and starving behaviors may be new, the groundwork for them is as old as mankind itself.
Current environmental triggers have activated hard-wired personality traits, contend Waiter Kaye, M.D., and Wade Berrettini, M.D., Ph.D., who are leading a search for the genes that predispose some people to anorexia and bulimia.
Accounts from the 17th, 18th, and 19th centuries show that anorexia is not just a modern disease, says Berrettini, professor of psychiatry at the University of Pennsylvania. Still, the risk of eating disorders has doubled in American women born after 1960. Since genes don't evolve that quickly, social factors must weigh in.
Indeed, Kaye and Berrettini believe that cultural messages about weight interact with inherited characteristics to produce anorexia or bulimia. "Sufferers tend to have certain vulnerabilities," says Kaye, professor of psychiatry at the University of Pittsburgh. "They are obsessed with perfection."
Once, this predisposition may have remained dormant. "There may be times in history where people had genes for these traits and didn't develop a disorder, due to a low-stress environment," says Kaye.
These genes might also have been expressed in other ritualistic behaviors. But our culture's emphasis on thinness has given women an all too ideal outlet for perfectionist drives.
Kaye and Berrettini are collecting the DNA of women whose families have two or more relatives with eating disorders. Berrettini expects to identify at least one of the genes by the year's end. Their research may allow them to pinpoint those at risk and may lead to better treatments.
next: How Personalities, Genetic and Environmental Factors and Biochemistry Combine to Cause Eating Disorders
~ eating disorders library
~ all articles on eating disorders
APA Reference
Gluck, S. (2008, December 2). Genes That Predispose Some People to Anorexia and Bulimia, HealthyPlace. Retrieved on 2023, December 3 from https://www.healthyplace.com/eating-disorders/articles/genes-that-predispose-some-people-to-anorexia-and-bulimia
Last Updated: January 14, 2014