What is the eating disorder bulimia nervosa and what are its negative effects on female fertility.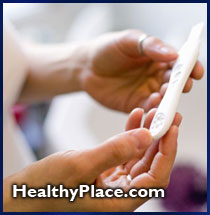 Pregnant women are much more likely to give birth to babies with a low birth weight and microcephaly - a condition in which the brain is not fully developed - if they have ever suffered from an eating disorder, the results of a new study indicate.
A team of researchers followed the progress of 49 non-smoking pregnant women, all of whom had previously been diagnosed with eating disorders. Twenty-four of the women had anorexia nervosa, 20 had bulimia and five had an unspecified eating disorder.
Their progress was compared to 68 healthy pregnant women who had never had an eating disorder.
The study found that 22% of the participants had a relapse of their eating disorder during their pregnancy. Furthermore all were at an increased risk of severe vomiting during the pregnancy, whether the eating disorder was in the past or still active.
In relation to the babies, those with an eating disorder were more likely to give birth to smaller, lower weight babies. Again this was the case whether the eating disorder was in the past or still active.
"Pregnant women with past or active eating disorders seem to be at greater risk for delivering infants with lower birth weight, smaller head circumference, microcephaly* and small for gestational age", the researchers concluded.
(*Microcephaly is a congenital condition in which the baby's head is abnormally small in relation to the size of the body. This is due to the fact that the brain has not fully developed.)
next: Eating Disorders: Compulsive Exercise in Teens
~ eating disorders library
~ all articles on eating disorders
APA Reference
Gluck, S. (2008, November 19). What is the eating disorder bulimia nervosa and what are its negative effects on female fertility., HealthyPlace. Retrieved on 2023, December 9 from https://www.healthyplace.com/eating-disorders/articles/eating-disorders-up-risk-in-newborns
Last Updated: January 14, 2014