Anorexic Men More Depressed, Anxious Than Peers
Men who suffer from eating disorders have higher rates of depression, anxiety disorders and alcohol abuse than their peers do, study findings suggest.
These men with eating disorders, are also more likely to report problems in their marriage and feel dissatisfied with life in general, researchers report in the April issue of the American Journal of Psychiatry.Women and Depression
However, it is not clear whether these findings reflect factors that predispose a person to an eating disorder or are consequences of anorexia and bulimia.
In an interview with Reuters Health, lead author Dr. D. Blake Woodside, of the University of Toronto in Canada, called anorexia and bulimia "extremely soul-destroying" disorders. Individuals with eating disorders "are very unhappy" and are more likely to experience difficulty in their relationships, he explained.
The findings are based on information from 62 men and 212 women with eating disorders and more than 3,700 unaffected men. Nearly 15% of anorexic and bulimic men reported that they had been depressed at some point in their lives and 37% said they had been diagnosed with an anxiety disorder.
In contrast, only 5% of men without an eating disorder reported depression and about 17% said they had ever suffered from an anxiety disorder, the report indicates. More than 45% of men with eating disorders said they had been alcohol-dependent at some point in their lives, compared with about 20% of their peers.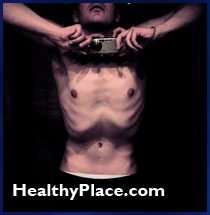 Men with eating disorders also reported less satisfaction with their leisure activities, housing, income and family life, the authors point out.
Nearly 26% of anorexic and bulimic men said they had more than one marital conflict a week compared with roughly 10% of their peers, and about 63% of anorexic or bulimic men said they were currently living with their spouse, compared with 83% of men without eating disorders.
"Men with eating disorders showed striking differences from men without eating disorders," Woodside and colleagues conclude. "The extent to which these differences are effects of the illness or possible risk factors for the occurrence of these illnesses in men is not clear."
In other findings, eating disorders appeared to be clinically similar in both sexes, the researchers note.
next:Anorexic Women More Likely to Be Suicidal: Study
~ all articles on depression and eating disorders
~ eating disorders library
~ all articles on eating disorders
APA Reference
Tracy, N. (2001, April 13). Anorexic Men More Depressed, Anxious Than Peers, HealthyPlace. Retrieved on 2023, December 11 from https://www.healthyplace.com/eating-disorders/articles/anorexic-men-more-depressed-anxious-than-peers
Last Updated: January 14, 2014