Study: Seniors With Late Life Depression May Not Recover
Elderly persons with depression have poor chances of full recovery, especially if they are older than 75, according to a study published in this month's issue of the Archives of General Psychiatry.
The study's primary goal was to analyze the natural history of late-life depression, systematically comparing those who did with those who did not fulfill rigorous diagnostic criteria.
Aartjan T. F. Beekman, M.D., Ph.D., of the department of psychiatry at Vrije University in Amsterdam, and colleagues studied the natural history of depression among elderly men and women aged 55 to 85 over a six-year period. They studied data from 277 participants in the Longitudinal Aging Study Amsterdam, a 10-year study of the well being and functioning of the elderly in the Netherlands.
The patients chosen were previously diagnosed with depression. The average age for participants was 71.8 years, and about 65 percent were female.
Depression is a common disorder among the elderly but has not been well studied, according to the study.
The study's findings appeared in the article, The Natural History of Late-Life Depression, a 6-Year Prospective Study in the Community, which indicated that although depression is generally regarded to be highly treatable throughout the life cycle, most elderly persons with depression remain untreated.
"This is an alarming finding, since it shows that a lot of older persons suffer from this condition over a very long time," Brenda Penninx, Ph.D., associate professor of geriatrics and director of the Geriatric Research Center at Wake Forest University School of Medicine, told MHW. "The majority of persons in this study did not seek treatment for their depressive condition."
Penninx, one of the researchers, continued, "Indeed, it can be expected that appropriate treatment (which could be antidepressant medication, psychotherapy, exercise, social activity or combinations of these) could have reduced the chronicity of depressive symptoms," she said. "However, this was not studied in this longitudinal cohort study."
Researchers conducted interviews at the beginning of the study, at three years and at six years. In between interviews, participants completed questionnaires sent through the mail every five months for the first three years and every six months for the last three years.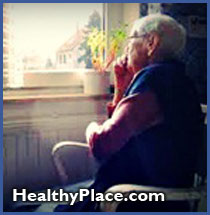 During each interview, the participants' form of depression was identified using the Diagnostic Interview Schedule, a common test in epidemiological research of the elderly. Four types emerged: subthreshold depression (207 participants), dysthymia (a mild, chronic form of depression) (25 participants); major depressive disorder (MDD) (23 participants); and a combination of dysthymia and MDD (22 participants).
The researchers analyzed remission in the four diagnostic subgroups, which revealed that persons with sub-threshold depression were most likely to have recovered by the end of the study. Those with a combination of dysthymia and MDD faced the most serious prognosis -- few elderly persons who were diagnosed with this disorder recovered within the six-year period. Also, persons who were 75 to 85 years old at the beginning of the study had more severe and persistent symptoms than younger participants.
After analysis of the severity and duration of symptoms over the six-year period, researchers found that 23 percent of participants had true remissions, 12 percent had remission with a few recurrences, 32 percent had more than one remission followed by a persistent recurrence of symptoms, and 32 percent had chronic depression.
According to Penninx, a lot of older depressed persons may not receive appropriate treatment because their depression is not recognized, which may be due to "... ignorance of physicians or more focus on other somatic conditions, which could leave less time for addressing emotional health," she said.
Seniors may feel that depression is affiliated with aging or does not deserve a physician's attention, Penninx added.
"The implications of the study are that the burden of depression for elderly persons in the community is even more severe than previously thought," the researchers said. "The data clearly demonstrate the need for interventions that are helpful, acceptable and economically feasible to be performed on a larger scale."
Source: Mental Health Weekly 12(28):3-4, 08/2002. © 2002 Manisses Communications Group, Inc.
next: Depression in Seniors Often Ignored
~ depression library articles
~ all articles on depression
APA Reference
Gluck, S. (2008, December 3). Study: Seniors With Late Life Depression May Not Recover, HealthyPlace. Retrieved on 2023, November 28 from https://www.healthyplace.com/depression/articles/study-seniors-with-late-life-depression-may-not-recover
Last Updated: June 23, 2016