A Depressed Person's Letter
Subject: Willing a Change
From: Kerrie
Hello,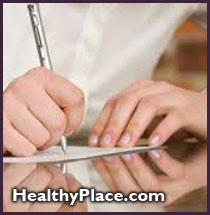 It has been a long time since I posted. I am lurking around. This topic is one that I have been reading, the following are only my opinions and what is working for me. This does not mean that it will work for anyone else. If anyone wants to read it or try it - good luck.
For me, in May, my antidepressant medications turned on me and at the present time I am not on medication. If someone is on antidepressants, they should stay there until they are told to stop. Medication is something that can help - it took me a long struggle to get to that realization because I hate any type of drugs - but they have a place. For me, Remeron was what cleared my head to a certain degree, allowed me to get some sleep, pulled me out of the depression to a point that I could see a few things. It did not stop the destructive behavior though.
Willing a change - making the decision that you want to win over this illness is the first step. Everyone here on this list has made that decision in some sort of way or they would not be here. That is willing a change.
Willing a change - making a decision to take your antidepressant medication in order to fight this depression / illness is willing a change to a certain degree.
Willing a change - is getting up in the morning - whether it be to go to work or walk around the house is fighting this illness.
Willing a change - is taking the tools that the professionals give us and using them. If you are on antidepressant medication - taking them. If you are in counseling - going. If you need help that day - reaching out.
Willing a change - is reaching out and deciding that things are not good and things need to change, that you want to fight. No matter what degree you do this if you make any effort you are working towards getting better and beating this illness - that is willing a change.
For me, the turning point was finding my true God and accepting His forgiveness for the horrible things that I had done and developing a desire to change my behavior and thus change my outlook on things. Taking a look at the people around me and discovering that change is possible, taking a good look at myself and discovering that change is possible.
Is this willing a change? No, this is consciously making a decision to turn my life around and fight what is wrong with me. Does that mean that there are not days that I still do things that are destructive? No, it means that the things that I do are less destructive. Instead of doing things that I did in the past, when that desire comes over me, I go and talk to someone. Instead of going back to the past sins/compulsions, I tell not only God but my friend and in telling them, it puts it out on the table and makes the compulsion come into the light where I can see it for what it really is - wrong. It is something that will send me back into the darkness that I am daily struggling to stay out of. It is something that I want to beat.
Checking your thinking. I check my thinking each and every minute. I almost took on a project that could have sent me back to where I used to be. I talked it out with honesty. I was rationalizing that there were failsafes in place and things would be okay. But my husband was right - even with the failsafes, it could happen in a moment of weakness. I do not want to take that chance. This is willing a change.
My husband has been beaten down by my illness and my refusal in the past to get help. If many of you remember my postings this spring every time he did something to hurt (me). I have made a conscious effort to will myself to be supportive of him no matter what he does. We are separated and in the process of divorce. This is not easy and there have been times that it has beaten me down and I thought that I was not going to make it. Going back, and not caring, looked really good. I pulled out some things and read them - this is willing a change.
To me, willing a change is doing things that are good for you in the long run and fighting this illness. Not giving up is willing a change.
Kerrie:
A person who is working on forgiveness and letting go of all things whether I have done them to myself or they have been done to me because it is an act of will. Hebrews 8:12 says 'Therefore, we also, since we are surrounded by so great a cloud of witnesses, let us lay aside every weight, and the sin that so easily ensnares us, and let us run with endurance the race that is set before us. 'Mark 11:25-26 says 'And whenever you stand praying, if you have anything against anyone, forgive him, that your Father in heaven may also forgive you your trespasses. But if you do not forgive, neither will your Father in heaven forgive your trespasses.' Phil 3:13 ....forgetting those things which are behind and reaching foreword to those things which are ahead.'
A person who is searching for self and working on her relationship with self, God and other people.
Change occurs when one becomes and accepts what she really is, not when she tries to become what she is not.
There are many important ideas here for depressed people.
This young lady is doing the things that it takes to
make her life better. You can too.
Successful Living is doing the things that it takes
to make our lives better.
(this letter was posted on an internet mood disorder bulletin board)
next: For Depressed and Suicidal People
~ back to Apocalypse Suicide homepage
~ depression library articles
~ all articles on depression
APA Reference
Staff, H. (2008, November 30). A Depressed Person's Letter, HealthyPlace. Retrieved on 2023, December 1 from https://www.healthyplace.com/depression/articles/depressed-persons-letter
Last Updated: June 18, 2016