About Douglas Cootey - Author of ADDaboy!
My name is Douglas and I've been diagnosed with ADHD for ages. I was ADHD before the Space Age, then during the Computer Age, and now in Old Age. I missed being diagnosed with Minimal Brain Dysfunction when that was all the rage, but did score Hyperkinetic in the 70s, which was not nearly as exciting or cool as being telekinetic.
Surprisingly, I was a good student, but by high school I had grown tired of not fitting into society very well. I grew tired of the mocking peers and disapproving teachers, disciplinary grades, and the unending drudgery of homework. I grew angry. In college, I floundered and sought help with my ADHD and Depression, but when an ADHD medication gave me a rare side-effect of a motor tic disorder instead of helping me, I slipped into a deeper depression—even suicidal ideation. I dropped out of life and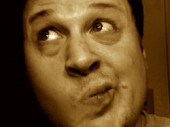 gave up.
By my late-twenties, however, I learned an important truth: being angry and depressed wasn't any fun. Thank Heaven for ADHD-bred boredom. Medications were off limits to me, but Cognitive Behavior Therapy wasn't. I started the long process of changing the way I thought in order to lift myself out of the darkness. After ten years, I even managed to like myself. I also learned how to manage myself and my ADHD in order to fulfill my duties as a full-time dad. Life was good.
Five years ago, I began blogging about my escapades with ADHD and Depression on A Splintered Mind. Co-morbid conditions make for fun times and gave me plenty to write about. Now I'm blogging for HealthyPlace and hope to lift the spirits of other adults with ADHD who find this whole disability thing a pain in the neck. Adult ADHD can be discouraging, but sometimes the only thing we can change in our lives is our attitude. I have found a positive attitude—even in the face of failure and disaster—helps me cope with the ADHD idiosyncrasies better. I am able to manage my ADHD and laugh at myself instead of beating myself up as I used to do.
And if nothing I write is of use to you, at least we can have a good laugh. I goof up so often, my life is a sitcom.
APA Reference
Cootey, D. (2010, January 20). About Douglas Cootey - Author of ADDaboy!, HealthyPlace. Retrieved on 2019, August 24 from https://www.healthyplace.com/blogs/adultadhd/2010/01/about-douglas-cootey-author-of-addaboy
Author: Douglas Cootey
Nice to meet you, javier. Sorry to hear you're down in the dumps. When that happens to me I try to find things that will balance the chemicals in my mind. I have a list of things I pull from: going for a walk, exercise, changing the scenery with a drive, music, etc. I hope you have a list of your own to lift yourself up by.
Leave a reply