Nonadherence to Antipsychotics in Schizophrenia: The Hidden Enemy
Even though the direct costs of schizophrenia are high, the indirect costs related to disability and unemployment are even higher. Antipsychotics are the mainstay of treatment in schizophrenia and patients on medications for schizophrenia are 50% less likely to relapse compared to those on placebo. Medication nonadherence is when a patient doesn't adhere to a treatment fully. Unfortunately, the rates of nonadherence to antipsychotic treatment is very high (between 40-60%) - even today with the new generation atypical antipsychotics. Objective measures of nonadherence show even higher rates (four to five fold) than clinician observation.
Why Do People Stop Taking Antipsychotics?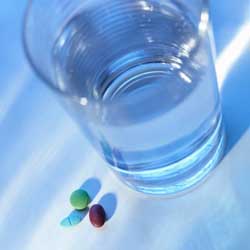 Factors contributing to antipsychotic medication nonadherence in schizophrenia can be patient- or illness-related, treatment-related or physician-related. Patient- or illness-related factors include:
Lack of insight (anosognosia)
Psychopathology (illness)
Substance abuse
Treatment-related factors include:
Dosing frequency
Lack of effectiveness or tolerability
Physician-related factors can include
Inadequate attention to adverse events
Lack of a therapeutic alliance (a meaningful collaboration between the patient and doctor)
Inadequate follow up or discharge planning.
How Can Adherence to Antipsychotic Treatment Be Improved?
Strategies to improve adherence include selecting an effective antipsychotic with good tolerability. All antipsychotics are not equally efficacious with evidence that the following have larger side-effect sizes:
Similarly, all atypical antipsychotics are not equally safe and tolerable. Olanzapine, clozapine and quetiapine (Seroquel) are the most likely to cause weight gain and metabolic disturbances like diabetes mellitus (Antipsychotic Drugs, Metabolic Syndrome and Diabetes) and should be reserved for second or third line treatment, particularly quetiapine which has less efficacy than clozapine and olanzapine. Aripirazole (Abilify), ziprasidone (Geodon) and lurasidone (Latuda) are the least likely to cause metabolic disturbances but more likely to cause akathisia (subjective and objective restlessness).
Medications that can be dosed once a day are preferred to those that have to be dosed more frequently. Long-acting injectable antipsychotics, like risperidone microspheres, paliperidone palmitate and aripiprazole extended-release may be helpful for some patients.
Addressing comorbid substance abuse is also extremely important. This can be done with psychosocial interventions like motivational enhancement and behavior therapies.
Finally, psychoeducational programs, assertive community treatment and intensive case management as additions to medications can decrease nonadherence, relapse and rehospitalization.
Improving Long-Term Schizophrenia Outcomes
Most clinicians are trusting and do not ask patients at every visit if they are adherent to antipsychotic medications and psychosocial interventions and even fewer look for objective evidence of nonadherence, like blood levels and pill counts. Exposing the enemy of nonadherence and dealing with it aggressively can markedly improve long-term outcomes in schizophrenia.
This article was written by:
Prakash Masand, M.D., is Founder, Chairman, and CEO of Global Medical Education (GME). Dr. Masand was also Consulting Professor of Psychiatry and Behavioral Sciences at Duke University Medical Center in Durham, NC. You can find Dr. Masand and Global Medical Education on Twitter, Facebook ,YouTube, and Google+.
For a limited time, Dr. Masand is offering HealthyPlace readers a free subscription to his mental health education website. Use group member discount GMETwitter when you sign up for a free membership.
To be a guest author on the Your Mental Health Blog, go here.
APA Reference
Author, G. (2013, April 3). Nonadherence to Antipsychotics in Schizophrenia: The Hidden Enemy, HealthyPlace. Retrieved on 2023, December 6 from https://www.healthyplace.com/blogs/yourmentalhealth/2013/04/nonadherence-to-antipsychotics-in-schizophrenia-the-hidden-enemy
Author: Guest Author
For us is the lock of medical care. Our health system is broke so how do we fix that? My son will continue to suffer,because what i can provide is not enough and when and if we apply for assistance what i make is too much.
This is an excellent discussion of key issues for people who need anti-psychotic medications and don't take them. However, I think we now need to recognize another increasingly powerful reason that people stop meds: the anti-medication, anti-science psychiatric survivor movement increasingly involved in the delivery of mental health services in the US and Canada.
I discuss this problem in a recent article about the hearing voices movement which doesn't believe that psychosis is a mental illness:
http://www.huffingtonpost.ca/susan-inman/psychotic-mental-illness-voices_b_3375516.html
Indeed this is exact and practical psychiatric paper, which ones explore the essence of medication of psychotic disorders with antipsychotic therapy, as the main therapeutic approaching of psychiatric patient who suffer from psychosis. Your shortcomings on nonadherence to antipsychotic medication indicates serious issue to current psychiatric treatment and management of these psychiatric entities. Therefore, it ought to make effort on assertiveness and importance of regular taking of antipsychotic medication to any psychotic patient. Without antipsychotic medication the treatment of psychotic patient would be incomplete and of provisory effects with many bad consequences for prognosis and outcoming of concrete psychotic entity. In this direction, the process of psycho-education of patient and its close relatives take place great and crucial importance. To achieve this useful psychiatric intention, it should to inform the patient in appropriate form for "conditio sine qua non" to successful psychiatric treatment of psychosis with antipsychotic medication.
Leave a reply