Diabetes and Your Mental Health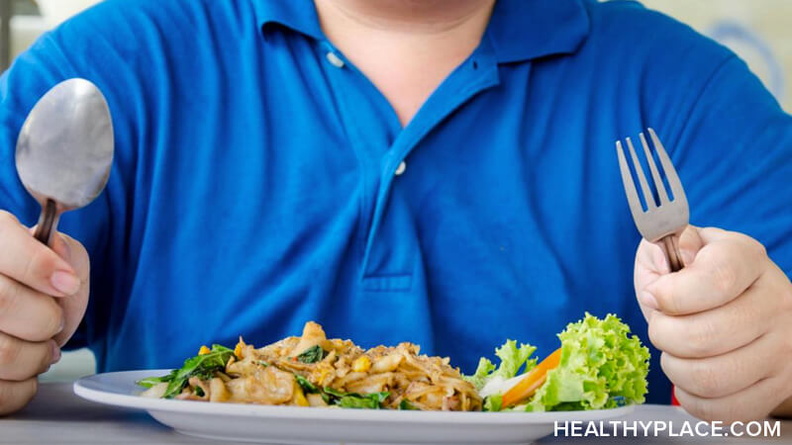 HealthyPlace is known as a mental health site, so when we opened the HealthyPlace Diabetes Center this month, we wondered would anyone really come. Since June 1, over 8,000 people have viewed the content; many of them very interested in our special section on Diabetes and Mental Health, written by award-winning mental health author, Julie Fast.
We shouldn't have been too surprised since 1 out of 5 people with a mental illness also ends up with diabetes (type 2 diabetes) as a result of poor eating choices, lack of exercise, and the antipsychotic medications that can induce serious weight gain. Other people, who live with diabetes, develop depression and anxiety as a result of coping with a chronic and serious illness. For instance, Jon writes us to share the story of his teenage son who has type 1 diabetes (aka juvenile diabetes); where the body does not produce insulin.
"Type 1 diabetes is NOT caused by bad lifestyle choices. However, Type 1 diabetes can destroy a young person's self esteem (that is Type 1 diabetes causes depression/anxiety and not the other way around)."
Our guest this week, Bill Woods, understands the full ramifications of Type 1 diabetes. Also known as "1HappyDiabetic," today Bill makes videos sharing all he's learned about managing diabetes and the emotional and mental health strains that come along with it. He'll be along to share his story and take your personal questions. Our live show is Wednesday, June 16, 4p CT, 5 ET and on-demand after that.
After June 22, 2010, you can watch our interview with Bill Woods on the HealthyPlace Mental Health TV Show homepage by clicking the on-demand button on the player. The show is titled "Diabetes and Your Mental Health."
How Diabetes Affects My Mental Health
by Bill Woods
Growing up with diabetes since 1988 has been an ongoing challenge for me. I had my first diabetes related seizure when I was 9 years old on 3rd base in little league and was told by doctors to not play sports any more. That didn't stop me though. I was a three sport athlete in high school and played division II football at Bentley University. Anything is possible with hard work and smart choices.
Having diabetes is a difficult challenge when all you want to do sometimes is be like everyone else and fit in. My teenage years were the most difficult. I was in "diabetes denial." I was always asking myself, "Why me?" I cried, and felt alone a lot of the time. I released my frustrations through sports and school work. Trying to be over-involved, so I wouldn't think about my diabetes.
Looking back on my teenage years, I realized I took the wrong approach to my diabetes health at times. It wasn't until I was in college where I met other people who had diabetes as well. It was such a relief to meet with other people who shared my same challenges. The burden of diabetes that I felt was my own lonely battle. I discovered I could help others with what I learned along the way.
My 1HappyDiabetic videos are just that, a way for me to meet other people with diabetes and share a positive attitude. To communicate with other people with diabetes on a global platform is amazing. Just by sharing your voice, you can impact lives miles away. I am so happy to say that is what makes 1HappyDiabetic so special.
I hope you'll visit my 1HappyDiabetic.com website where I create and produce these personal diabetes related videos. My videos are unique, they offer a funny creative look into the world of a real life person with diabetes. Video topics range from what it feels like to have low blood sugar to addressing alcohol and diabetes.
The videos I make are my real life reflections. They are based on my own personal diabetes experiences, trying to help others from past mistakes I've made and encouraging others to create good habits. The best part about the 1HappyDiabetic videos I make is that I am able to put a smile on my viewers face. Many viewers watch my videos with their family. They laugh, they smile, and they learn something about diabetes; even if they don't realize it.
Share Your Diabetes Experiences
What is it like living with diabetes? Did you get it as a result of taking antipsychotic medications? How has diabetes affected your mental health? Please leave your comments below.
APA Reference
Amanda_HP (2010, June 14). Diabetes and Your Mental Health, HealthyPlace. Retrieved on 2023, November 30 from https://www.healthyplace.com/blogs/tvshowblog/2010/06/diabetes-and-your-mental-health
Author: Amanda_HP
One tip for coping with diabetes is to keep your diet in balance. Try not to consume a lot of unhealthy foods, instead, eat fruits, vegetables, lean cold cuts, oily fish and unsaturated fats. You will feel far better and there will be a visible difference.
Leave a reply