Relieve Symptoms of PTSD: Allow Your Body To Shake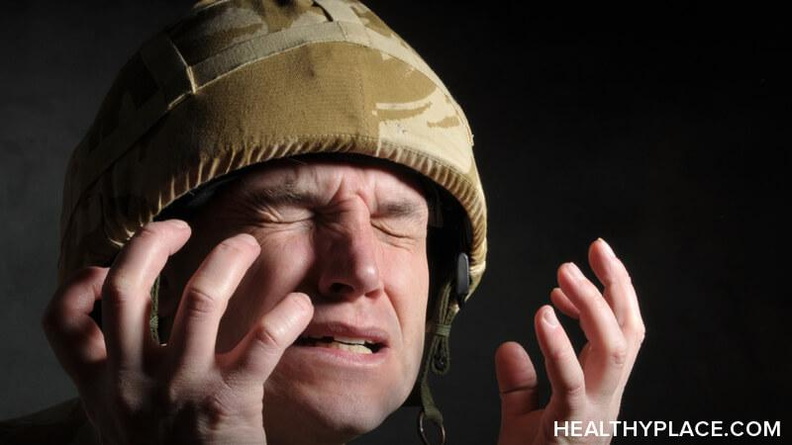 I have had enormous success by allowing my body to shake to help relieve my symptoms of posttraumatic stress disorder (PTSD). The process sounds a little strange when you first hear about it, but can be an enormously powerful tool in the PTSD healing process. You can allow the body to shake to relieve the symptoms of PTSD.
The PTSD Releases When I Let My Body Shake
I have been able to release the tensions and feelings that were stored in my body from the abuse by allowing my body to shake. I was too shut down to experience any feelings during the traumatic events, but as those stuck feelings release, I feel lighter and more balanced. I can do things that the abuse prevented me from doing before.
How Did I Discover the Shaking Concept?
When I first started dealing with the symptoms of posttraumatic stress disorder in my life, it was the late 1980s, and much less was known about it. At that time, PTSD was something that happened to combat veterans. I had to figure out through trial and error how to overcome the effects of abuse that had led to my PTSD. I was working with a therapist who told me several times that the effects of trauma were stored in the body at the cellular level and needed to be released. I didn't quite understand, but began to explore that direction.
I attended a group that helped people process feelings from traumatic events in their lives. To resolve anger, they suggested shouting, or hitting a bed with a newspaper. For grief, a person would cry. To deal with fear, they mentioned that sometimes a person's body would shake. I began to experience that sensation.
The PTSD Symptoms of Trauma Releases When the Body Shakes
When my body shakes, and the fear is diminished. At the time, I was uncovering memories of violence with my dad which had been buried for over 20 years. I experienced my legs shaking, and began to realize that I was trying to release the trauma from the violence I had endured. At times my arms would shake, and sometimes my legs would shake. Mostly it happened late at night – I discovered that's when the abuse took place.
Each time the shaking occurred, I felt less fearful, and would experience a sense of calm and peacefulness. When I released old feelings, it would lead to new insights. I had more emotional freedom, and had more control over my fear. The strange part was that I didn't realize how much my life was dominated by fear until I began to get free of it.
My perspective also shifted, and I was able to see my dad in a more loving and forgiving light. He had experienced similar violence in his childhood, and had just passed it on. That awareness didn't excuse his abusive actions – but it did help me understand him better.
Tension and PTSD Trauma Release Exercises
Only last year I got confirmation for what I had been doing when I found out that Dr. David Berceli had formalized the process, calling it TRE for Tension and Trauma Releasing Exercises (When Talk Therapy Fails to heal PTSD). When I realized it was a powerful healing tool that could help many people, I was relieved, because it wasn't just a random and odd sensation only I experienced.
Then I watched a television special on PTSD in the military. It showed a soldier in World War I sitting in a ditch, just having left combat. His body was shaking violently. I completely understood how he felt, and at that moment I realized that shaking to release fear is not a new concept – our bodies will naturally try to resolve trauma if we let them.
I continue to let my body shake as needed, and consider it one of the most valuable tools I've ever found to deal with the effects of abuse in my life.
My Experience With Shaking To Release the PTSD Symptoms of Trauma
Photo by Anita @ Flickr. Creative Commons.
Dan is a PTSD survivor, and author of Healing The Writer: A Personal Account of Overcoming PTSD and Freedom's Just Another Word. You can connect with Dan on Twitter, Facebook, and Google+, and at his website DanLHays.com.
APA Reference
Hays, D. (2015, September 21). Relieve Symptoms of PTSD: Allow Your Body To Shake, HealthyPlace. Retrieved on 2019, September 17 from https://www.healthyplace.com/blogs/traumaptsdblog/2015/09/allowing-the-body-to-shake-to-release-trauma
Author: Dan Hays