Help Your Brain Change and Heal: Sensitize Your Amygdala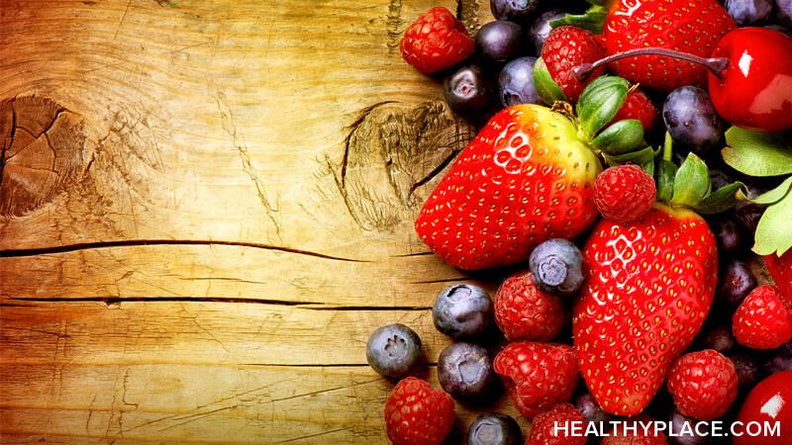 Last week I wrote about how possible it is for the brain to change after trauma. This week I want to share with you one of the ways you can do that. It's all about creating positive experiences that last for long enough that your brain can record the experience through neural activity.
Whew, sounds like a lot of science and hard work, doesn't it? Actually, it's as easy as eating a ripe strawberry. Here's what I mean...
How You Can Help Your Brain Change
According to neuropsychologist, Rick Hanson, "the brain takes it's shape from whatever it rests upon." What he means is that brain structure constantly changes as a result of the information flowing through it. Indulge your negativity bias (focus on the bad things) and your brain's activity and development will reinforce all of the feelings and neuronal structures that support that.
But, develop your positivity bias (your ability to be optimistic, for example) and you can develop a wholly different set of neural pathways that create a very healthy, whole and healing brain indeed.
How the Amygdala Affects Brain Change
The fact is, the brain makes structural changes according to how you use your mind. Take your amygdala, for example. An almond shaped mass deep within your brain, the amygdala is the seat of your survival emotions and response. Studies have proven that the amygdala can actually enlarge in people with PTSD. It's almost as if it's a muscle; the more you work it the bigger it gets.
However, studies have also proven that the amygdala can shrink back to it's original size when PTSD reduces. Want to know how to help that happen? In PTSD your amygdala gets sensitized to pain, fear, anxiety, panic, terror, etc. Starting today, however, you can start sensitizing it to something else, say, joy, delight, happiness, contentment, gratitude, etc.
How to Change Your Brain by Sensitizing the Amygdala
The major key to doing this? Creating experiences that allow your mind (hence, your amygdala) to have positive experiences and combining them with mindfulness practices that allow you to hold onto the feeling that experience creates for at least 10-20 seconds. This way you can sensitize your brain and different parts of it to good things and desensitize your brain and its part to the bad. Doing this will literally change your brain.
The equation looks like this:
Positive experience + mindfulness = neuronal change
Effecting this equation can be as simple as:
1. Choose a food you really, really love.
2. Eat it slower than you ever have before and really be aware of how it tastes in your mouth, how it smells, how it feels sliding down your throat, how it rests in your stomach and makes your whole body feel.
3. Focus on that good feeling for a solid 10-20 seconds. For best results: do this over and over and over again.
That's just one simple example. The truth is, whatever brings you pleasure can be used. For me dance and movement is a huge pleasure zone. So was cuddling up with my pup. It's up to you to decide, discover, explore and find what makes you feel good, even if only for 10-20 seconds at a time.
This all sounds very simple and maybe even ridiculous, doesn't it? Make healing progress while having fun eating? Yes, exactly. No one ever said PTSD recovery had to be a red hot mess all the time. It's just that until now, science never suggested that it could be so pleasurable either.
Michele is the author of Your Life After Trauma: Powerful Practices to Reclaim Your Identity. Connect with her on Google+, LinkedIn, Facebook, Twitter and her website, HealMyPTSD.com.
APA Reference
Rosenthal, M. (2013, February 6). Help Your Brain Change and Heal: Sensitize Your Amygdala, HealthyPlace. Retrieved on 2023, December 6 from https://www.healthyplace.com/blogs/traumaptsdblog/2013/02/are-you-sensitizing-your-amygdala
Author: Michele Rosenthal
Praying for healing for all of you! Healing is possible. All my abuse - childhood to 55 yrs - will take awhile to heal from but I am thankful to be on this side of the journey. Changing my mindset has been the biggest game changer. The more positive I put into my life = no more room for negative. I have learned so much by leaning in to my need for Jesus & His healing power. Total trust even through my question marks and I have never been let down! That's been a beautiful journey ♥️🤗
Guys try learning a computer language like Java or Phyton and It will change your brain for the better for life.
Same here. I had an emotional trauma which resulted in 7 years, so far, of anxiety and hyper everything. it's pretty much a living hell. I guess I keep googling for some magic word, blog or phrase to make it all go away. My amygdala must be enormous too. My dr said today that it's very difficult to repair it. No meds have helped me, not even medical cannabis! He keeps recommending the DVD program by Annie Hopper but it's about $250! : /
A part of me thinks that this could be useful, but I can't even get started on a list of things that make me feel secure. A nice song would not make me feel safe and secure. A gun, maybe. Pots of money. A desert island far away from the rest of humanity. I must have an amygdala the size of a melon. I never feel safe and can't remember ever having felt safe. I will work on this though. I just don't have much of a concept of safety to work with.
hi I came across this post looking for help. I suffer from complex PTSD. starting at 13 I was forced by my boyfriend to have sex. married at the age of 15 was severely controlling abused me and the young years and early part of marriage I thank God that after having three children he did not abused me severely and was able to have a decent life and raise my children then at the age of 33 all hell broke loose he started drinking and got on really bad drugs I was shot at three times and ran thank God I was not here yet separated but he cried and begged for me to come back. I got in the car with him and he changed immediately he drove down the highway at a high rate of speed saying he would kill us both I almost tried to jump out of the car. He would not take me back home so for safety I said let's go to your mom and dads. I have to act like things were okay for a few days before I was able to get to the phone and have my mother come and get me. Separated for maybe a month there was and instill fear in me. He would either be rageful or he would be very needful crying and saying he needed my help gave in and went back so for the next 10 years the cycles of severe abuse and then the cycle of things being good went on. I was made to stay in bed was was terrorized to get up through the night because he would accuse me so much. He would use the most explicit foul sexual talk. punched me in my private threatened to kill me several times. this is just a little of what I went through things would be really good and things then would get horrific. I then had the most horrible write down I went into a terrorizing panic it would not stop. Went to the hospital they put me on ativan it stopped it but as soon as it wore off I was stuck in a terrorizing Panic with my heart pounding and my blood pressure high went to the emergency room again and they sent me to a counseling place. it has been 11 years now I have lived alone for 4 years now. And I still have the same thing happening and when they Ativan wears off. If anyone has any information of things that would help to stop this it has been since 2011 since that total breakdown happened
I have borderline personality disorder brought on by abuse, neglect, and abandonment. Anything can trigger it and it's like I have raw skin. I've done emdr which saved my life and dbt. I'm on an anti psychotic for rage but I'm still experiencing triggers and severe physical pain in my stomach which I believe is tied in with trauma and it's physiological. I've had the best treatment and medicine that money can buy and I'm still very easily trigger granted I had a lot of trauma. I would love to have a scan of my brain to see if my amyglidila is enlarged and explore treatment to suppress it. What kind of doctor would I see for that? I know it would be a long shot to get someone to listen to me but any ideas? I've been seen by a neurologist for conversion disorder. Would I go back to him?
Dear Michelle and Tom,
Today, I think I did what you discuss. I was at an event at work that brought up an array of uncomfortable emotions. I said to myself "I need to leave." I left. (Big move since the president of the job was speaking.) When I got outside I said I need to replace my pain with something good or I'll turn to my addiction. I saw a bag with a camera store on it so I went. There I had fun looking at the electronics talking to people etc. Tonight I found your article. So I did what you write about. I experienced a fun thing to make up for the pain I had just experienced.
Hi Michele -- I have been really loving your emails and posts -- thank you.
One perspective on this page -- it's a great idea, but I deal with clients with severe early (family) trauma -- which often shows up connected to eating disorders...which mean, "no pleasure in eating." Food is something to be endured or avoided.
So this article's helpfulness is not accessible to them. Might be helpful to reframe this excellent idea and re-present it with a less charged subject...like looking at the starts or sunset? or, yes, cuddling with a favorite animal or even stuffed animal?
Hi Michele -
I'm wondering why treatment centers don't use MRI, EEG or other similar brain activity scans to take patient benchmarks and baselines when they are admitted with a diagnosis of PTSD (or any other diagnosis for that matter). Wouldn't that be able to pinpoint not only a correct diagnosis but the severity of the illness? I would think insurance coverage would be a factor, however there are many patients and family members who would be more than willing to pay out of pocket to have a solid starting point for treatment. Because of the nature of PTSD and disassociation, a full and complete accounting of indications and symptoms by the patient cannot be reliable at all times. In this sense, wouldn't brain imaging and mapping be an absolute necessity before medication and treatment be introduced? Thanks so much!
Wonderful work here, Michele! ALthough I've seen research that childhood sexual abuse can shrink the amygdala, that is not necessarily a contradiction. Just that the brain is really complex. More important, as we know, is that building mindful positivity is really good, healthy, healthful and fun! (keep on dancing!)
And, this takes a long time! For me it was 10 years of living basically in a bubble, eliminating as much as possible, all negative input, focusing on the positive world I created for myself. With the help of therapy and medication, I've gotten much better but it takes an incredibly long time.
Leave a reply