Introduction to Andy Winder, Author of  'The Life: LGBT Mental Health'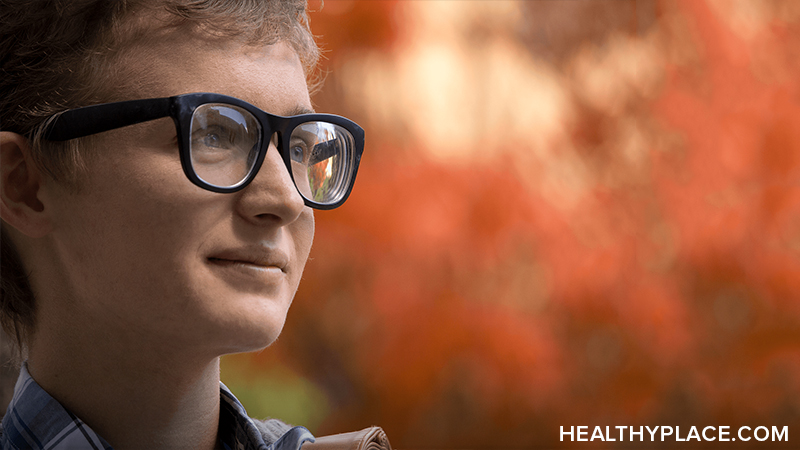 My name is Andy Winder, and I'm excited to blog for The Life: LGBT Mental Health here at HealthyPlace. It means a lot to share my experiences as a queer, transgender man with mental illnesses obsessive-compulsive disorder (OCD) and social anxiety disorder. Everyone has a story, and I believe that as we share our triumphs and challenges in life, we can learn from one another and feel less alone.
Andy Winder's LGBT Coming Out Story
My gender identity has always been a part of who I am. As a kid, I'd "insist" that my parents call me a masculine name ("Bob," if you're wondering) and I fantasized about a future where I was a man. But I didn't identify as transgender until I was a teenager and even then, it was a source of shame. I grew up in a religious community that didn't understand queer issues, and I thought that the part of me that felt male was inherently sinful. I planned to keep it a secret for the rest of my life, but it became too much to bear alone and I tried therapy.
During my freshman year in college, I was officially diagnosed with the mental health issue "gender dysphoria." Shortly after, I began to meet other lesbian, gay bisexual transgender (LGBT) students. So much of the guilt I held inside melted away because they looked so happy and at peace with who they were. Meeting them taught me to have compassion for everyone, including myself. This helped me find the strength to come out, start hormone replacement therapy, and live authentically as a man.
Andy Winder Lives with Mental Illness in the LGBT World
I've heard it said that queer people are more vulnerable to developing mental illnesses due to discrimination or internalized shame. While I'm not qualified to talk about genetic vs. environmental causes, my queer identity has shaped a lot of my life–including my mental health.
When I was 13, I was diagnosed with "scrupulosity," a subset of OCD characterized by a fixation on religious guilt and moral issues. The month before, I'd stopped eating and going to school because I felt so ashamed of my queer identity that I thought God would send me to hell for it. I was also diagnosed with social anxiety disorder and depression in college, both of which revolved around feelings of unworthiness because of my gender identity.
But while these diagnoses have come with distinct challenges, I'd still describe my life as very fulfilling. It took a long time for me to get to the point where I realized that sad and joyful moments both have a purpose. It hasn't been an easy journey, but I wouldn't trade the friends and lessons I've learned from it for anything.
Andy Winder's Hopes for 'The Life: LGBT Mental Health'
My hope for this The Life: LGBT Mental Health is that these posts will provide comfort for other queer people as well as raise compassion for the inner battles and mental illnesses many in the LGBT community face.
More of Andy Winder's story can be found in the following video:
APA Reference
Winder, A. (2019, February 13). Introduction to Andy Winder, Author of  'The Life: LGBT Mental Health', HealthyPlace. Retrieved on 2023, September 24 from https://www.healthyplace.com/blogs/thelifelgbt/2019/2/introduction-andy-winder-author-life-lgbt-mental-health
Author: Andy Winder
It's wonderful to see you bringing your perspective to the platform! Looking forward to more articles. Cheers & Thank You!
Hi Jenn,
Thank you, that means a lot. I've enjoyed writing and reading other contributors' blog posts here and am grateful for the chance to share more about queer mental health. Take care!
Leave a reply