Back to School: How Out Should LGBT Families Be?
School is back in session in our home and with it has come a torrent of changes not only to our daily routine, but also in our relationships and associations. For my 3 daughters; a senior in high school and two middle-schoolers going back to school is an exciting time as they look forward to meeting a new set of teachers, friends, soccer coaches, etc. However, for many LGBT families, going back to school can mean anxiously making decisions about how out to be in the school environment, if at all.
Given how heated the international debate about same-sex marriages (and the families we create) are, it is not without reason that as LGBT parents, we may worry about the impact coming out in our child's school will have. For those who choose not to come out, anxiety can come simply from having to censor how much information you share and with whom. For those who do come out out, fear that our child may be treated differently, ridiculed or bullied by other students, parents and unfortunately even teachers and administrative staff is real. Some of us even worry about causing conflict with our own kids and partners because for their own reasons, they just aren't ready to wave their rainbow flag in school (even if they are out in other areas of life).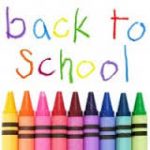 In my particular case, my four children are from a previous marriage and their father is actively involved in their lives. So for our first 4-5 years, my partner kept her involvement with the children in school to a minimum. She was simply listed as someone authorized to be contacted in the event of an emergency. She did not attend any school functions and showed up briefly for special events. Once we were married in 2010, her involvement increased quite a bit after the children began to invite her to school events and soccer games. It is now common knowledge that we are an LGBT family and oddly enough, I found out while eating lunch with my daughter in 5th grade that we were outed in school by our kids!
"They all know, mom"! my daughter told me while using her hands to guide my eyes around the lunch table filled with her friends who weren't even moved by her announcement. They were more interested in talking about who likes who and how the lunch lady's underwear always show when she bends over.
While the Family Equality Council encourages LGBT parents to be as out in their schools and communities as safety permits, proceeding with caution is not a bad idea nor does it indicate that you are somehow lacking in pride. How out LGBT families choose to be in their school and community is a decision that should consider everyone's feelings. Keep in mind that these feelings naturally evolve over time as each member of the family finds love, security and commitment in that family unit.
APA Reference
tneely (2013, August 26). Back to School: How Out Should LGBT Families Be?, HealthyPlace. Retrieved on 2023, December 4 from https://www.healthyplace.com/blogs/thelifelgbt/2013/08/back-to-school-how-out-should-lgbt-families-be
Author: tneely