Psychiatric Medication Stigma: There's a Pill for That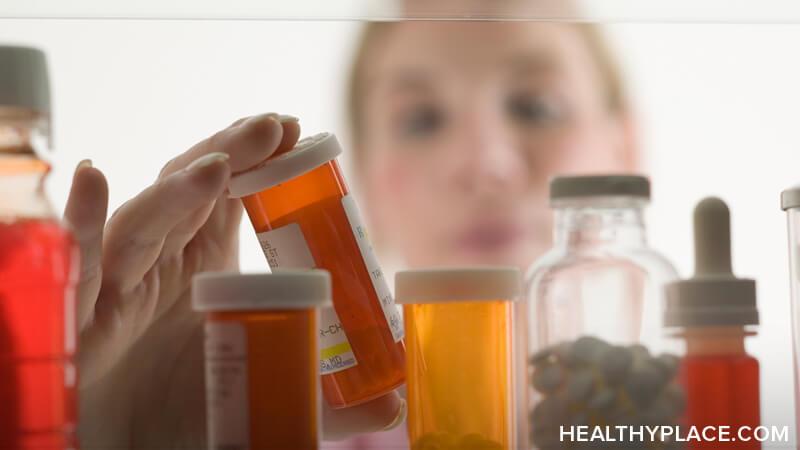 Psychiatric medication stigma makes taking medicine a sensitive topic in mental health treatment. While those of us with mental health issues may face psychiatric medication stigma, this can present itself in different ways. Some people believe that taking medication is a sign of weakness or they label people who take mental health medication as "crazy." On the other end of the spectrum, there are those that think medication is a good choice, but wrongly believe we can cure all mental health problems simply by taking a pill. One way or the other, the psychiatric medication stigma is there.
Assumptions Increase Psychiatric Medication Stigma
The use of psychiatric medication has grown significantly over the years. According to a survey done by the Centers for Disease Control and Prevention, between 2011-2014 over 10 percent of U.S. adults reported taking an antidepressant in the past 30 days (compared with 6.4 percent from 1999-2002).1 With a higher percentage of the population taking psychiatric medication, there is a chance that its use is being increasingly normalized.
However, this can lead to a different kind of psychiatric medication stigma. Because medication is becoming so prevalent, many people readily assume that fixing mental health problems is as easy as picking up a prescription from the drugstore.
I have heard this opinion expressed in various ways. Most recently, I was discussing a complex mental health issue with someone and received the reply, "There are pills for that."
I was taken aback by the overly simplistic nature of this response. Certainly, there are many pills available to treat mental health conditions, but long-lasting recovery tends to involve far more than getting a prescription.
Sometimes Medication Does Not Reduce Symptoms
The prescription medication stigma that says taking a pill is an easy fix for all mental health problems implies that those whose symptoms do not improve with medication somehow do not want to get better. This perpetuates mental health stigma because it places blame on the person who is suffering. In reality, medication may prove ineffective for a variety of reasons.
Although many people with mental health conditions can benefit from taking medication, this hardly means that it is 100 percent effective. For example, only about one-third of people with major depressive disorder will experience symptom remission with the first antidepressant they try. Another third will not experience relief even after trying multiple medications.2 Additionally, even if a medication helps, it may only offer partial relief from symptoms.
Self-Stigma and Psychiatric Medication Effectiveness
For someone already experiencing hopelessness because of mental illness, having symptoms that are unresponsive to treatment can feel like a personal failure. This feeling is intensified if the expectation from friends and family is that going on medication will completely resolve the issue. That is why it is important to explore multiple treatment options rather than assuming medication will be effective all by itself.
Unfortunately, there is no "one size fits all" answer to mental health treatment. What works for one person will not guarantee success for another. As researchers continue to explore options for effective treatment, acknowledging the complexity of mental health conditions remains an essential part of combatting stigma.
References
Selected prescription drug classes used in the past 30 days, by sex and age: United States, selected years 1988-1994 through 2011-2014. Retrieved October 17, 2017.
MacDonald, A. (2015, October 29). New insights into treatment-resistant depression. Retrieved October 17, 2017.
APA Reference
Miles, R. (2017, October 17). Psychiatric Medication Stigma: There's a Pill for That, HealthyPlace. Retrieved on 2019, June 17 from https://www.healthyplace.com/blogs/survivingmentalhealthstigma/2017/10/mental-health-stigma-when-medication-doesnt-work
Author: Rachel Miles