Use Social Media to Combat Mental Health Stigma
You can use social media to combat mental health stigma. In today's day and age, the Internet provides us with memes, cat videos, celebrity news, and Facebook plus other social media platforms, among other things. A lot of people would scoff and say some people spend too much time online and not enough time interacting with others. I can agree with this to some degree – that we see more online interaction than face-to-face interaction sometimes – but I think people who demonize the Internet are failing to see the amount of good it can do if we use social media to combat mental health stigma.
How Social Media Can Help Combat Mental Health Stigma
Social media allows us to connect with people from around the world and share our ideas. It also allows us to share our movements. "Trending" has become a commonplace term and hashtagging lets people find others who are talking about the same things they are, and that includes conversations about mental health.
Some organizations even push social media campaigns that specifically combat stigma and work to get the conversation going about the people who live with mental illnesses and what that means for us all (look for HealthyPlace's campaign, Stand Up For Mental Health, on #SU4MH twitter or #SU4MH Facebook).
Bell Canada's Mental Health Social Media Campaign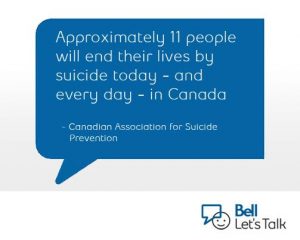 Here in Canada, we have something called Bell Let's Talk day. Started in 2010 by a phone company called Bell Canada, they solicit the help of celebrities and the general public to talk openly about mental illness and break the stigma surrounding it.
For every phone call and text made by Bell and Bell Mobility customers on Bell Let's Talk day on January 27th, Bell donates five cents towards mental health initiatives. The company also donates five cents for every share of its Facebook post on that day and every use of the hashtag #BellLetsTalk on Twitter.
Not only does this give people the chance and encourage them to actually have honest conversations about mental health, but Bell is also donating towards mental health. According to its website, "$100 million has been committed to mental health initiatives in Canada" since it began.
HealthyPlace's Stand Up For Mental Health Campaign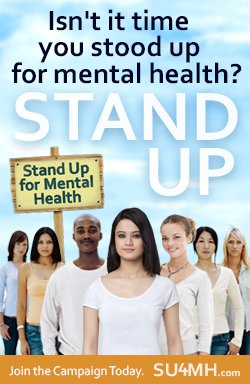 Here with HealthyPlace, the Stand Up For Mental Health Campaign is "dedicated to eliminating the stigma of mental illness, including self-stigma, and letting others know that talking about mental health openly is a good thing."
Like many social media campaigns, we're asked to share the Stand Up image on our websites, blogs, and social media, which signals to others that not only are we supporting the elimination of mental health stigma, but also that it is a safe place to talk about mental health issues.
The campaign asks us to let people know stigma is not acceptable, let people who live with mental illness know there's no reason to feel ashamed, and to generate conversation about how it's okay not to be okay.
You can find Laura on Twitter, Google+, Linkedin, Facebook and her blog; also see her book, Project Dermatillomania: The Stories Behind Our Scars.
APA Reference
Barton, L. (2016, January 21). Use Social Media to Combat Mental Health Stigma, HealthyPlace. Retrieved on 2023, December 9 from https://www.healthyplace.com/blogs/survivingmentalhealthstigma/2016/01/using-social-media-to-combat-mental-health-stigma
Author: Laura A. Barton