Cutting to Cure
I don't remember much about the first time I cut myself. I was probably about eleven or twelve at the time. I don't remember why I did it, or what was going on in my mind at the time. But looking back on it now with a more formal and educated understanding of self-harm, I understand that I was seeking release.
But a release from what? I had a great childhood. Loving parents, a wonderful dog, a house on the lake. What every child wants. But I never quite fit in to the small town that I grew up in. And I never felt like I fit in in my own head either.
Depression and Self Harm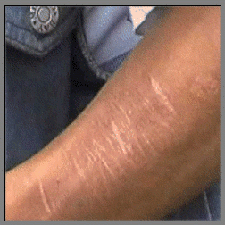 I was a depressed kid, I now realize. The things that brought other kids joy just didn't have the same effect on me. It didn't help that I was raised in a French speaking town, when I was English and struggled with French. It also didn't help that all the other kids at school were only interested in fishing and hockey, two things which I had no interest in. But whatever the reason, I stumbled upon cutting at a young age, and it unfortunately became an issue for me for the next many years.
The first time I engaged in self harm was an isolated incident. It was when I got into high school and started experimenting with drugs that self-injury cutting became a frequent part of my life.
The Drugs Don't Work
Downers, uppers, pain killers, hallucinogens, pot, hash and alcohol. The further that I spiralled into my addiction, the more I cut. The worse the drugs made me feel, the more I needed that release from the blade. I still have a few scars to this day that remind me of where I was, and where I never wish to return.
I remember being in the bathroom and cutting over the sink. There was blood trickling down into the sink and it gave me a sense of peace. Of freedom. Maybe, the comfort was knowing that at any given time, I could end it all. But I didn't. I just wanted to be free of whatever emotional turmoil I was in at the time. And cutting provided that release that I didn't know how to get anywhere else.
I cut into my late teens. I remember the last time I cut, and always will. I now have a tattoo of a question mark over my final scar. It reminds me of what I have overcome and how I never want to go back to it. The thought of cutting hasn't come up in almost a decade, but if it did, I would just look at that question mark and question myself. That was the point of the tattoo in the first place.
Cutting: A Cry for Help
Although I probably wouldn't have admitted it at the time, my cutting was definitely a cry for help. But my parents did try to help; I just wasn't ready to accept it.
If you or someone you love is struggling with cutting, please talk about it. The more we speak, the less we bleed.
If you are interested in a more formal article on self-harm, please check out a prior article of mine titled 'The Blood Is Mightier Than The Sword.' Comprehensive information on self-harm can be found here.
The Completely in Blue website is here. Chris is also on Google+, Twitter and Facebook.
APA Reference
Curry, C. (2012, July 30). Cutting to Cure, HealthyPlace. Retrieved on 2023, September 30 from https://www.healthyplace.com/blogs/survivingmentalhealthstigma/2012/07/cutting-to-cure
Author: Chris Curry
I like the helpful information you provide for your articles. Ill bookmark your blog and check again right here frequently. I am quite certain Ill be informed many new stuff proper right here! Best of luck for the next! eeaakkgfaded
Hi there Noonecares (not your real name I know),
Thank you for coming to Healthy.Place.com and sharing your story. I have to be 100% honest with you when I say I personally don't have experience with cutting and I often don't know what to say as Surviving Stigma is my blog and I am just reaching out to you as your post concerns me. I am not here to lecture you or tell you to stop. I know that it is not my place, but I do want you to know that I do care and I am so sorry you are feeling this way. Please visit us again and let us know that you are in fact ok. At HealthyPLace.com we care about you and want you to be safe so please try. HUGS Andrea
I am middle twenties been cutting since 14....my past is horrible and to this day I will never get healing....I like the pain it makes the emotional pain go away for a brief time then I cut again.....now I am struggling so much,....one little trigger I become a different person.....
Perfect information and facts exactly about this subject, thanks for posting.
Depression and self harm is connected to each other. Depression, somewhere results in self harm. So, it's better to cure depression before it gets worst.
If I could say Thank you for this articels a million times I would.
I am 41 and have had periods of cutting since 14 but it's been about 5 years now. I wish I could say the urge goes away forever, it does not. And actually the only thing that stops me sometimes is the fact that it would make people so angry at me that would find out, which ironically guilt at my perception that I disappoint others what always what drove me to the behavior.
That being said, awareness and understanding is so important and this article makes it understandable to "the population in general".
I have a bleeding heart tattoo directly over my worst scars from a very bad incident and I will say mine reminds me that I am not "crazy" but just feel things intensely and found ways to cope.
Thanks again!
Thank you so much for your touching words. They really moved me. I'm glad to hear you are on the mend and I hope that it continues. You are a battle survivor! Keep surviving ~
I'm a 41 year old male who along the way has lost a son aged 4 and my second wife aged 29 ( post natal depression ) took Emma from us. I've been cutting now for almost 2 years on and off and oh what a fantastic release I've found it to be....my temper I cannot lose as I'm on a high dose of antidepressants. X
I have also been cutting and burning myself over 30+ years. I am 53 now, and hadn't self-harmed for over 12 years when it came roaring back this spring. I burned myself so badly -- 2nd and 3rd degree burns all over both arms -- that I was in the hospital and partial hospital for a month. Then I started ECT, which I am still getting for "maintenance" every month.
I have 3 diagnoses: bipolar, borderline personality disorder and generalized anxiety disorder. I honestly could never articulate why I self-harmed, what purpose it served. Sometimes I did it so that I wouldn't have to kill myself. I had a lot of crazy guilt and it was my "atonement." I also did it so that the pain I felt inside was "made real" on the outside. And sometimes as you say a release from anxiety.
But there's another element present for some people (and I think I'm one)-- and that is trauma. People who've been abused or neglected or lived thru a disaster often self-harm. And usually dissociate while they're doing it. That is the case for me, I dissociate during the actual act and during the subsequent wound care, psychiatric treatment, etc. I feel like I have two selves, the one who is completely normal and the one who is wickedly depressed, delusional and self-injurious. It's like my self is shattered, and one shard does the self-harm.
Sorry to go on so long. It is great to have this forum -- the shame and stigma are so strong on this. I still feel deeply ashamed. Bless you all.
Thank you for that honest look inside what it's like to cut Christa. Your strength is apparent in your words. Keep fighting. As you said, 'they remind me that the hurt is over, the wound is closed and done with.'
"I wish my lawn were emo cause then it would cut it's self"
God! Me too... But first we have to get it to a point where it feels so much crap it has no other release.
Thats where I get. I'm 31 and I still, on occasion cut.
I deal with bipolar, depression, anxiety and eating disorders. I've gotten my "stress management" down to mostly the eating disorders but there are times when I feel so much anxiety build up inside of me my poor brain can't handle it anymore. It's almost like, if I don't make it physical, my brain will implode.
The hardest part for me is when I'm done, I have two kids who will see the cuts or my arms wrapped in bandages.
My anti-anxiety Rx is so high that if I take it I'm out for four hours. I can't parent like that. The catch 22 is awful.
Cutting has kept me from dying, I know that because it has given me the release I need to keep the extreme anxiety at bay so I can calm down and think straight enough to get to my Rx or assess the situation/trigger. I have had a very few people understand this. Somebody actually said "I don't like it but sometimes the cure is better than the cause"
I took a big step towards not cutting and healing myself in this regard when I started wearing my much beloved tank tops again. I realized, this was part of me. Something I can't undo, something I survived, something that made me stronger.
There is something beautiful about my scars. They remind me that the hurt is over, the wound is closed and done with.
Tess, you are quite welcome. I'm glad you are on the mend. Keep it up!
Michele, thank you for your frank and open words. My only thoughts were that there must be an underlying issue that has yet to be addressed. If you can access psychiatric care in your community, I would strongly encourage you to do so. Cutting is a cry, a call to understand. You just need to figure out what it is you are trying to understand. Keep your head up, talking about it is the first step.
Thank you for these words. It is the first time I have heard words that make sense to me. I am a cutter. Last time I cut was 3 months ago. I am also a suicide survivor. I almost died 4 yrs ago. (last time I made a fatal cut) I believe what you say to be very true... Thank you again... Tess
I was 25 yrs old when I first cut. I was older than most. I had never heard about cutting, believe it or not. I just did it, first with a scratch. Then it progressed. I am now 39 and still cutting, I did have periods of time that I didn't cut over those years. I started cutting when my bipolar and anxiety came out. It was soon after my son was born. I don't know if that was the trigger or what. I only had one child because I didn't feel I could handle more and I was right. I am thankful for that.
But I often wonder where this will lead to. I can't just keep cutting. I don't even know how many scars and cuts I have on me. Too many to count. I don't know what to do.
Michele
Leave a reply