Eating Disorders and Relationships: Regaining the Trust of Loved Ones
My husband, David, left me in August. Because of my anorexia. He couldn't handle it, after more than three years of dealing with a wife who seemed hell-bent on dying. This past spring, I spent six weeks in a partial hospitalization program that did very little for me but crush what little self-esteem I had left. I spent the summer depressed and anxious, mainly about the size of my body.
I immediately began restricting and purging (through laxative abuse) and soon lost all the weight I had gained while in the program. David soon lost all hope I would recover from anorexia. I had forgotten — again — that my eating disorder doesn't just impact me, but also my husband and loved ones.
Anorexia, Eating Disorders, Broken Promises and Lost Trust
He left as a last-ditch effort to make me want to get better. It worked. I soon began eating regular meals and drinking several bottles of Ensure daily. I slowly gained weight, and we rebuilt our relationship and reconciled at the end of September.
But the anxiety that weight gain always triggers in me came back and by the first week of October, I was again restricting and losing weight. This past week, we had a raging argument about my lack of eating and what he perceived as broken promises on my part. He threatened to leave again and I knew if he left this time, there would be no future reconciliation or recovery. It would have been the end of our relationship and most likely, the end of any more attempts at recovery by me.
Eating Disorder Patients Focus on Their Eating Disorder
The problem is that eating disorders are selfish diseases. I don't mean that in a bad way, thinking that those of with eating disorders are sitting around thinking about how miserable we can make our spouses and loved ones. But the nature of the beast is that when we are in the throes of restricting, bingeing, and/or purging, that is all we think about. I am person who is a very restrictive anorexic and when I am restricting, I spend hours looking up the calorie count of every food I've eaten during the day and then adding up each single calorie. I spend each morning weighing myself and the number on the scale can either make my day a good one or it can completely destroy my mood.
Eating Disorders and Rebuilding Trust
Our eating disorders and the things we do definitely have an impact on our relationships. I believe all of us with eating disorders have to work at regaining the trust of our loved ones. Again, it is not that we are deliberately mean people who want to hurt our families. But when we lie about how much we ate or whether we purged or not, when we hide what we are doing and try to deny that we are not doing anything, that breaks the trust they had in us.
I can't stress this enough. My husband and I did talk things through and I promised I would try harder, and I am eating more and working (again) to get better. I was heartbroken to think that after all the hard work I had done in September to regain his trust and belief that I could recover, that I destroyed that trust by my actions of the past two months. I realize that I again need to regain his trust, so that he will believe I can recover. I have to take responsibility for my actions, even though they are driven by my illness, and understand my role in creating a happy, healthy relationship between us.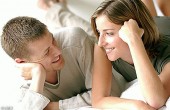 APA Reference
Gambrel, A. (2010, December 3). Eating Disorders and Relationships: Regaining the Trust of Loved Ones, HealthyPlace. Retrieved on 2019, September 21 from https://www.healthyplace.com/blogs/survivinged/2010/12/eating-disorders-and-relationships-regaining-the-trust-of-loved-ones
Author: Angela E. Gambrel
Very nice Sam. Thank you for sharing that with Angela. It's so important to hear that people like you are out there reading and connecting with this blog. Z :)
Chad, I'm so sorry you had to go through that. Being in a relationship with someone with an eating disorder is definitely trying for both parties. Unfortunately, not all of us are ready to respond to help and support when it is offered. Some of us keep resisting it because we want so desperately to hang on to our eating disorders. It sounds like this might be the case for your ex-girlfriend. It's very possible that she will, sometime down the road, realize what she has lost by pushing you away. She was very lucky to have someone who loved her enough to confront her and ask to help her in overcoming this. Please don't think you did anything wrong! On the contrary, you did something amazing by following your gut and acting out of love.
Best wishes,
Jess
Leave a reply