Introduction to Mikaela Mariner, Author of 'Relationships and Mental Illness'
My name is Mikaela Mariner and I am the new coauthor of Relationships and Mental Illness. I am here to speak on the reality of mental illness and the importance of relationships. With only a few years of recognizing my anxiety and depression, my biggest takeaway thus far is my ability to identify when my mind is trying to take over. Being married to my best friend has been a huge help for me and my primary inspiration to help others. You could say I've always been a writer but it wasn't until recently that I learned exactly what it is I'm supposed to be using my craft for; realizing how to utilize it was a monumental step in my journey.
Anxiety, Other Mental Illness and Relationships
My first few battles with anxiety actually occurred when I was in middle and high school but I was unaware of what was happening until years later. I grew up in a home with a bipolar father, and over the years learned that it had led my mother into a depression. Now divorced and living separate lives, they're in better places apart from one another. The importance of a relationship, however, is more magnified than ever. After observing them and dealing with my own mental imbalance, I learned how crucial it is that we support one another and raise one another up in times of need. I also learned the importance of boundaries and realizing when we must take care of ourselves before we can take care of others. These things didn't really occur to me until my husband and I moved from Virginia to Connecticut. There's nothing like a huge move and new life chapter to get anxiety stirring.
Relationships and Speaking Out About Mental Illness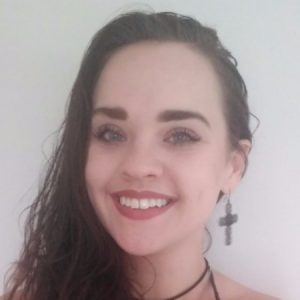 It took me a few years to finally summon the courage to speak out. I had really only talked to my husband about what I had been dealing with in my mind and what I had experienced when I was younger. There were a few friends over the years whom I had confided in, but few gave me the response I felt was needed.
I felt that because my life was so picture perfect from the outside, I didn't have the right to say I was ever unhappy. The more I pushed it aside, the worse it got. I had a few people trust me with their dark thoughts, and that's when I knew I had to speak out. Once I did, so many doors opened and many people came to me in confidence. I want to reach out to even more people who feel like there is no safe place. I want you to know that there is one. You just have to ask for help.
More About Mikaela Mariner
I have my Bachelor's in Liberal Studies, and spend my days pouring lattes and connecting with customers in Canton, Connecticut. Working in customer service has been a huge outlet for me to meet people and find a community.
APA Reference
Mariner, M. (2017, August 3). Introduction to Mikaela Mariner, Author of 'Relationships and Mental Illness', HealthyPlace. Retrieved on 2023, November 29 from https://www.healthyplace.com/blogs/relationshipsandmentalillness/2017/08/introduction-to-mikaela-mariner
Author: Mikaela Mariner
Thank You, Mikaela! I'm glad you're here at The Healthy Place, and also look forward to hearing much more from you. I suffer with major depression, anxiety and as of the last few years, also complex ptsd. I'm always trying to find anything that can help myself and others learn anything new, as in tips, observations, etc. I'm thrilled you have a husband that supports you! That's HUGE to me, after having lost everyone in my life, who either helped cause it, (such as you mentioned your mother with your fathers illness). It's definitely different for everyone.
Thank you for your honesty and loving heart. I look forward to learning and growing through your words
Niki, thank you for your kind words. I can't wait to see what comes of these discussions.
I can't wait to hear more from you Mikaela!
Chrissy, thank you so much. I can't wait to share more.
Leave a reply