Mentally Ill Spouses: Give What You Can to Your Marriage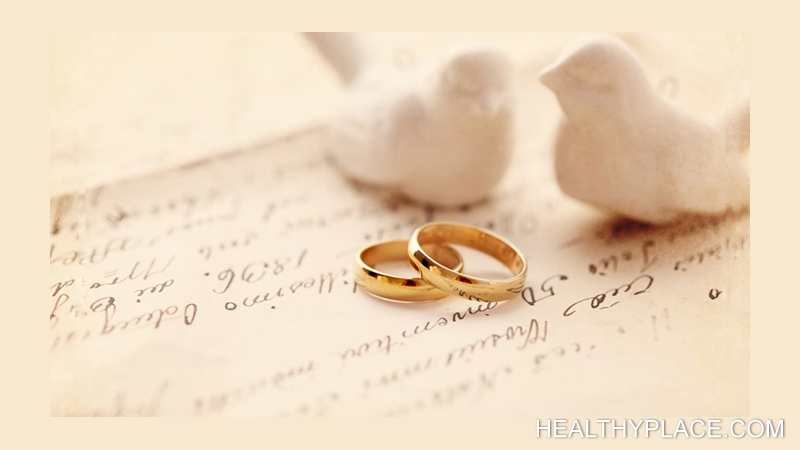 Mentally ill spouses often feel that finding ways to give to your spouse is impossible. When it takes all the will you have just to get out of bed in the morning, tending to someone else can seem laughable. And yet, the more I have shifted my focus off of my own suffering and onto the needs of my husband, the stronger my marriage becomes and the better I feel about myself. I think it's important for mentally ill spouses to give what they can to their marriages.
Spouses of the Mentally Ill Often Assume the Role of Caregiver
After my bipolar diagnosis, my husband fell into the role of caregiver. He worked full time, cooked and cleaned, and dealt with my constant ups and downs. We both focused all of our attention on me becoming well and very little attention on him. For a while, this was necessary, but it couldn't go on forever (Bipolar Spouse Support: Survival Strategies).
As I realized my spouse's needs were being ignored, I felt like a failure. I knew he deserved more from me, but I could barely work my 24-hour-per-week job, let alone keep the house clean and put dinner on the table. I slept 16 hours a day. Taking a shower was a huge accomplishment. I wondered if I could ever deserve his love and devotion again (How to Stop Feeling Insecure in Relationships).
Mentally Ill Spouses Can Focus on What They Can Give
When I was able to set my feelings of failure aside, I asked myself a few simple questions:
If I were going to get out of bed for one half hour a day, what could I do to make Jack feel loved?
Could I reach out to him just to ask how his day went?
Could I try to listen?
Maybe that was all I could do, but I could try (Reasonable Expectations and Healthy Goals and Mental Illness).
I started with simply trying to be interested in him again. I started by trying to make the conversation about something other than me and bipolar disorder. As time went on and I kept trying to give him more and more of my energy, I realized how simple it was to make a difference in my marriage. My husband just needed me to try to prioritize him. That was it. I, the mentally ill spouse, could give to my marriage.
One day I asked him, "What do you need from me, Jack?"
His answer was so simple that it blew me away.
He replied, "All I really need is affection and food."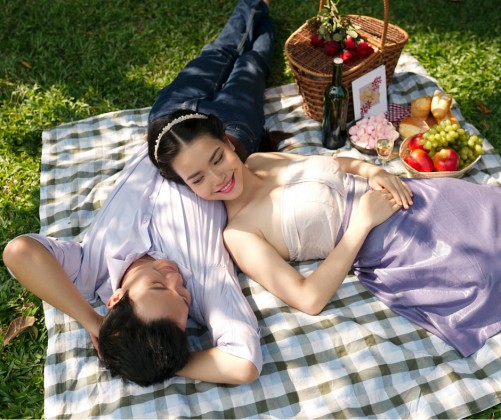 "That's it?" I balked. "Not a clean house, for me to bring in a steady income, or for me to lose all of this weight I gained because of medication?"
"None of those things make me feel loved," he replied. "I would rather you be happy, whatever that takes. And, to get some affection from you and a hot meal every once in a while would be awesome."
I laughed out loud at how simple his needs were. Here I had been overcome with guilt over the house not being clean and all the ways I thought I was failing him as a wife. But I was already trying to give him affection and make him a meal when I had the energy. I could just focus on that and know that he felt loved.
Every marriage is different and every person has unique needs. But I tend to get stuck in my own head, at the expense of my relationships. I was so busy feeling like a failure that I never bothered to ask my husband if he thought I was failing him. The more I focus on him and his actual needs, instead of worrying about what my sick head is telling me, the more I love him the way he needs to be loved.
Marriage Can Help Mentally Ill Spouses Have Better Self-Esteem
As my marriage keeps getting better, so do I. The added bonus of focusing on Jack's needs is that I started to feel like I was succeeding in my marriage. That success made me feel better about myself. Feeling better about myself helped me ignore the negative self-talk inside my head. Focusing on what I could give, instead of all the ways I couldn't, made my marriage and my self-esteem so much healthier.
So, give it a try. Give what you can.
Rumi said,
All doubt, despair, and fear become insignificant once the intention of life becomes love.
Let your life be about love. Then, stand back, and watch how love can transform you and your marriage.
Connect with Taylor on Facebook, Twitter, Pinterest, Google+, and her blog.
APA Reference
Arthur, T. (2016, February 10). Mentally Ill Spouses: Give What You Can to Your Marriage, HealthyPlace. Retrieved on 2023, December 6 from https://www.healthyplace.com/blogs/mentalillnessinthefamily/2016/02/mentally-ill-spouses-give-what-you-can-to-your-marriage
Author: Taylor Arthur
Marriage as specific and formal psycho-social ties underlines a wide specter of joint act between two person with opposite sex. In this matrimonial union people complete many personal, emotional, biological, social needs and can birth and bring up children. Married life on the other hand encompass numerous happy and unhappy moments, kindest and unkindest events, troublesome and cheerful experiences... However, marital coexistence is the most healthier way to lead and manage successful and fruitful life. Meanwhile, this close interpersonal relationship exhibits perplex and turmoil emotional challenges and misunderstandings amid two person of opposite sex and personality, as well. As to pertain to mentally ill spouses, the issue become more complicated and intrigued. In these cases, two marital partners are included on discrepancy and disfigure coexistence. One partner is burden with necessities of others partner, who is with mental disorder, because it is unable to accomplish daily deeds. This kind of unbalanced partnership creates discrimination relation, and may damage global welfare of mentally health spouse. In addition, marriage with mentally ill spouse indicates ruinous factor to bring up mentally health children. These and many other difficulties of mentally ill spouses set forth the necessity to give something useful from mentally ill spouse, such is love, empathy, compassion to partner who is caregiver. Otherwise we shall face with syndrome of burn-out, which is more danger to respective spouse as caregiver.
Leave a reply