ADHD Medication and Food
People associate so many experiences with food. I remember what I had at so-and-so's wedding and how happy my grandmother's strawberry shortcake makes me feel. There are so many good things about food. And, then, there's the way that ADHD medications make you feel about food. Those feelings? They tend to not be so good ...The first time I ever took a stimulant I was 19 years old and in my sophomore year at Bryn Mawr College. The whole world of yummy dining hall food was at my disposal and, truthfully, Bryn Mawr had some darn fine food options. There were veggie burgers every day, pasta galore and the veggies didn't even taste like they can been previously frozen! It was a good food place as far as colleges go. The first day I took Concerta, though, I started to shift my opinion.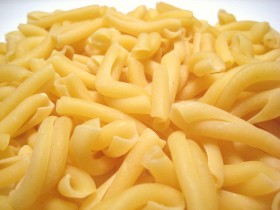 After that day and for approximately four months, I subsisted on white pasta with olives, spinach, tomatoes and italian salad dressing. Everything else - and I mean EVERYTHING else - looked disgusting. I hated the idea of having to eat food ever again. I tried to sometime add potatoes in and other foods that might be "good for me," but there was only so much I could take.
It gets better once you get used to the medicine, but it hasn't gone away all the way for me. I think food can be fun, but I'm in a funk right now and the food-related side-effects of medication are really starting to irritate me. Food that I would normally find exciting is leaving me wanting more. Also, I don't want to eat. Somehow these medication can do that to you - they allow you to regain your drive to do things, and take away your drive to chow down.
Sure, reading this, you might think that stimulants sound like a great diet plan. Trust me, if you don't have to, you don't want to feel the lack of hunger that stimulants can make you feel. It's not fun. It's not fun at all.
What to do? I bet you know what my answer is going to be - make a list/menu! It's important to get the right nutrition, so look at eating from a health standpoint. Make a list/menu of breakfast, lunch and dinner. Eat and repeat. Keep it simple, make the meals as easy as possible to cook/prepare and take taste out of it. Eat to live, rather than living to eat - because you might not always be able to enjoy food on some medicines and that's just a fact unfortunately.
APA Reference
Prager, E. (2013, June 17). ADHD Medication and Food, HealthyPlace. Retrieved on 2023, December 11 from https://www.healthyplace.com/blogs/livingwithadultadhd/2013/06/adhd-medication-and-food
Author: Elizabeth Prager