About Elizabeth Prager, Author of the Living with Adult ADHD Blog
Hiya, friends. I'm Elizabeth Prager, an almost 30-year-old gal with between ten and twenty white hairs. More than half of them spawned this summer during cadaver lab in my first semester of Physical Therapy school here in Maryland. I live with my lovely spouse, who will someday save the world, and my two cats, both of whom are constantly seeking to overthrow the current power structure.
One really important thing about me: I'm obsessed with Iceland.
I'm Open About Having Adult ADHD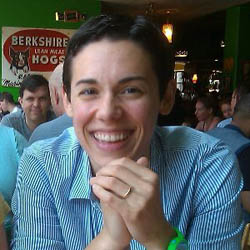 Ten years ago, when I was an almost 20-year-old gal, I was diagnosed with Adult ADHD after a myriad of incorrect labels. At first, I shared this information with people around me secondary to my lack of impulse control when it came to my constant word vomiting. Now, I share that I have ADHD because I know it's important.
My diagnosis has helped me to understand why my brain works the way it does and how I can best manipulate it to suit my needs! Being open about my adult ADHD diagnosis is something I do to help pave the way for others. Growing up, I was led to believe that I was too darn smart to have ADHD and also way too much of a female to have it as well. I know that's not true and I know that since I was diagnosed post-18 that ADHD doesn't end with that specific birthday.
What else do I know? All sorts of things and I am excited that you're going to join me on this blogging journey into Living with Adult ADHD!
Elizabeth Prager Welcomes Readers to the Living with Adult ADHD Blog

You can also connect with Elizabeth Prager on Google+, Facebook and Twitter.
APA Reference
Prager, E. (2013, February 11). About Elizabeth Prager, Author of the Living with Adult ADHD Blog, HealthyPlace. Retrieved on 2019, August 25 from https://www.healthyplace.com/blogs/livingwithadultadhd/2013/02/about-elizabeth-prager
Author: Elizabeth Prager