Celebrating the Joys of ADHD
My favorite radio stations are playing carols, greeting cards are arriving in my mailbox and more and more houses are twinkling as I drive home at night. It's official – the holidays are here.
I've been thinking about the holidays and how to write a blog about best tips to survive and enjoy them if you or a loved one has ADHD. Then I started reminiscing about past seasons with my children and decided to go a different route. To celebrate the joys that ADHD can bring this time of year:
Opportunity to educate others on ADHD. When we visit relatives, I always make sure to prepare my extended family and friends for what ADHD is all about and how we can make it a successful day. They share with me the latest information they've learned and we talk about how it relates to my family since ADHD is always different for everyone. It opens up a chance for a frank discussion that may not happen other times during the year.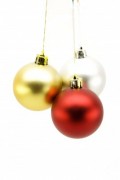 Discovering the growth in my children. Before every social event, I prepare my children with 'the Remembers and Make Sures.' Remember to say hello to Nana, Make Sure you ask to leave the table, Remember to say thank you even if you don't like the present, etc. It was always a thrill when my children reached the age when they remembered these without need for prompts.
Permission to walk my talk. During this time of year, I take the time to relax, unwind, and enjoy the moment. I find pleasure in the simple things- baking cookies, being with loved ones and expressing my thanks for all the goodness in my life. I don't want to miss a moment of the magic so I consciously make the effort to be present…and give myself permission to slow down to do so.
Last minute sales and shopping. My ADHD mind always forgets one or two gifts that causes me to run out to the stores on Christmas Eve. And I've found that this is the best time of the year to shop. There is hardly anyone else in the store, and I get to relax and browse to my heart's content.
The chaos of Christmas morning. Opening presents in my house is always pure chaos. Wrapping paper everywhere, boxes ripped opened and tossed in the corner, tiny pieces of toys strewn all over the place. But it's okay, because the unbridled excitement and joy on my children's faces overrides the mess. In fact, the pandemonium that set in once their eyes opened made my holiday that much brighter (and why we open presents in one room, and hold family dinner in another).
What about you? How does ADHD add to the joys of your holiday season?
APA Reference
Dupar, L. (2012, December 10). Celebrating the Joys of ADHD, HealthyPlace. Retrieved on 2023, February 1 from https://www.healthyplace.com/blogs/livingwithadultadhd/2012/12/celebrating-the-joys-of-adhd
Author: Laurie Dupar, PMHNP, RN, PCC