Was this Classic Children's Book Written for Parents of Eating Disorder Patients?
Half asleep on Easter morning, I was drifting in my mind through the classic picture book, The Runaway Bunny.
It's appropriate for Easter and for eating disorders. This story of persistent and firm parenting despite spirited attempts at independence from a child was meaningful when I read it to my young children, but means far more to me now as I watch countless families negotiate parenting during eating disorder recovery.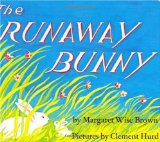 We know what to do when a knee-high darling tries to fly away, sail off into too-deep waters, or climb too high. We admire their spirit but keep them safe. We are proud of these dreams for when they are ready but, meanwhile, we hold them close.
Parents and Patient Compliance
This puzzling mental illness makes us doubt ourselves and our protective role. We are not sure who should be in charge and whether we have the right to hold them back. We hear what are clearly irrational hopes and fears, but we don't wish to insult a budding independence.
Toddlerhood is temporary, but necessary. Mothers and fathers know we are not holding them back from freedom, we are keeping them safe until real freedom. An eating disorder can be a temporary state as well, if we act with appropriate urgency and protectiveness. We need to see the depth of the ocean and the slope of the cliff for our loved ones until they can. Healthy parents don't want to hold their children back, but sometimes must - for a while. We do it not against, but for, that spirited person who is in there held captive by a condition that, like toddlerhood, should hold no shame but still needs protection.
The Runaway Bunny
Once there was a little bunny who wanted to run away. So he said to his mother, "I am running away."
"If you run away," said his mother, "I will run after you. For you are my little bunny."
APA Reference
Collins, L. (2010, April 5). Was this Classic Children's Book Written for Parents of Eating Disorder Patients?, HealthyPlace. Retrieved on 2023, December 9 from https://www.healthyplace.com/blogs/eatingdisorderrecovery/2010/04/was-this-classic-childrens-book-written-for-parents-of-eating-disorder-patients
Author: Laura Collins
When I became a mom, I appreciated this book more. Sometimes, when my son insists on doing things alone, it hurts. But I guess I must do it if I want him to grow.
Leave a reply