My Daughter Does Not Want to Recover From Her Eating Disorder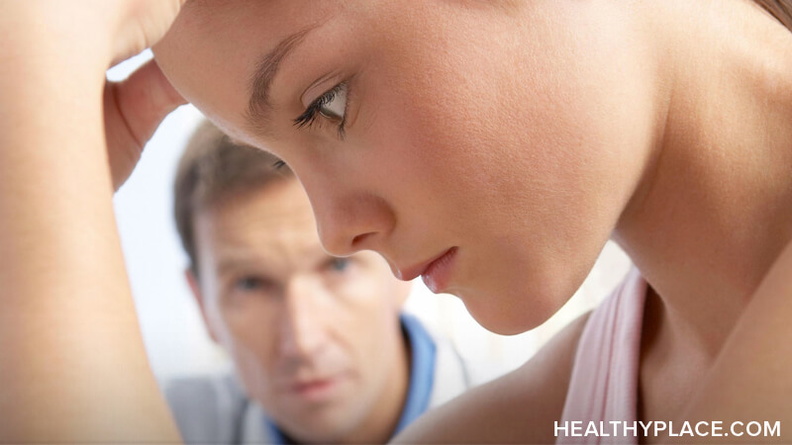 One of the strangest, and most dangerous, symptoms of an eating disorder is "not wanting to recover." Parents panic or get understandably angry when their child denies being ill, hides the eating disorder behaviors, and lashes out at anyone trying to help. We see a horrible illness that is sapping the life and personality from a beloved child - yet they seem to embrace it. What can parents do when a son or daughter says "I'm not ill and I don't want to get better?"
First Step: We Have to Change Our Response
The first thing to do is to change how WE think of the illness, and of their resistance. When I hear that a patient with anorexia or bulimia or other eating disorder "doesn't want to recover," I don't hear "denial," I hear "anosognosia." This means "brain-based lack of insight into the seriousness or existence of a medical condition." Anosognosia is also a symptom of other organic or traumatic brain damage, and common in bipolar illness and schizophrenia (Impaired Awareness of Illness (Anosognosia): A Major Problem for Individuals with Bipolar Disorder). The difference with eating disorders is that the anosognosia abates as the patient recovers.
Malnourishment causes damage to the brain and often a temporary blindness to certain sensations and insights. This isn't under the control of the

person and no amount of anger or logic on our part helps them "see" what we do if they are in certain stages of the illness. In addition, because some of the symptoms of eating disorders are ones society seems to value - like the pursuit of thinness and self-control - the patient is often encouraged in these symptoms or they are mistaken for healthy impulses.
Seeing Resistance to Eating Disorder Recovery as a "Can't" vs. a "Won't"
I find it very helpful to see these thoughts and this lack of motivation as a "can't" and not a "won't." Instead of being angry or frightened by a loved one's lack of insight we can choose to think of this as a symptom and something that they can't do YET. We can hold the optimism and the seriousness in our thoughts and actions until they can.
Parents usually find that anger doesn't work. Logic and pleading and punishment don't help. Compassion, commitment, and firm response can help a lot, however. We can insist on restoring the brain, keeping the loved one going to treatment appointments, and providing an environment where recovery is the goal and optimism is the mood - even when they cannot.
We can connect on an emotional level, instead of a logical one, by being unconditionally loving regardless of what the ill person does in response. We have to believe in the real person, the well person inside, and not allow ourselves to become embittered or defensive even when our loved one is irritable or combative. This is very, very hard. We are connected to our children and not used to separating them from their thoughts and behaviors - but we must try.
Brave Parenting: Not Needing Their Love
We can do the bravest thing of all for many parents: not need love or friendship or agreement from our children. They don't have to agree with or understand what we are doing in response to their illness. They don't have to like it or like us. Our responsibility is to "do the thinking for both of us" on behalf of the real person inside - until they can.
Motivation to recover is not required for the early stages of eating disorder recovery. In fact, whether a patient is voluntarily or involuntarily brought into care has little impact on the success of treatment and does not mean the patient will permanently resent us .
I speak with former patients all the time who are grateful to those who listened to their needs and not their words, and those who were silently rooting for those who refused to listen to what they said aloud. I speak with parents who are amazed to discover that when they stop arguing and stand firm that their ill loved one becomes compliant instead of more combative. Parents often find their child feels safer and less anxious when the parent is firm and direct.
Eating disorders have been looked at as a form of self-expression for a long time, and so it follows that we have seen motivation to recover as a necessary factor in recovery. I agree: but the motivation is often a sign of recovery and need not be the price of admission.
It is our job as parents to "want recovery" until our dear children can.
APA Reference
Collins, L. (2010, May 12). My Daughter Does Not Want to Recover From Her Eating Disorder, HealthyPlace. Retrieved on 2019, September 16 from https://www.healthyplace.com/blogs/eatingdisorderrecovery/2010/05/my-daughter-does-not-want-to-recover-from-her-eating-disorder
Author: Laura Collins
Eunice,

You are the parents and there are options besides interfering. The first is making sure you and your husband are on the same page: he needs to know that weight loss can be a very serious symptom of a life-threatening mental illness. If the two of you can come together on this, then you can come up with a plan on how to intervene in whatever way you can.

I think it helps to see an eating disorder as much of a threat as cancer, or heroin use. It is THAT important. It is also treatable. Parents may not have rights after 18 but that doesn't mean we don' t have responsibilities and investment. We can speak up, we can withdraw support for symptoms, we can act with urgency.
Leave a reply