The Debate Over Setting Quit, Clean and Sobriety Dates
I took my last drink of alcohol (hopefully for good) on February 19, 2007. I smoked my last cigarette (also hopefully for good) on December 31, 2010. In contrast, my friend quit street drugs and alcohol years ago, but she doesn't know the exact dates.
12-step programs emphasize dates. Alcoholics Anonymous, Narcotics Anonymous and Overeaters Anonymous all celebrate sobriety dates, clean dates and abstinence dates, respectively. For me, my sobriety date is extremely important. It commemorates a miraculous day when I was given another chance to live. The day I quit smoking is important to me too, but I might not remember it if it didn't coincide with New Year's. Perhaps I care more about my sobriety date because my struggle with alcohol was much harder. Even so, for the clean and sober folks I know who do not commemorate a specific clean date, (mind you, this is the minority of clean and sober folks I know) it is not because their sobriety isn't important to them.
Do Quit Dates Help or Harm Recovery?
Long-time 12-step critic Stanton Peele has written that focusing on sobriety or clean dates encourages feelings of shame and failure in those who relapse. Friends of mine who have struggled to stay clean have echoed this sentiment. They feel as though they've gone through so many clean dates, it's pointless to set them.
I appreciate this viewpoint, but for most people, I don't think this concern outweighs the benefits of acknowledging your progress. Choosing a date to quit, or recognizing the day you did quit, requires intentionality that helps addicts.
[caption id="attachment_2144" align="alignright" width="270" caption="Michael Lastremski for openphoto.net"]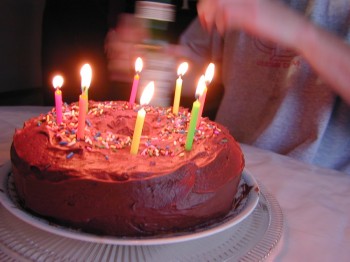 [/caption]
True, when people relapse and "lose" their sobriety or clean date, they often feel disappointment at best and despondence at worst. On the other hand, I have heard many addicts attest to the fact that in times of temptation, clinging to their clean dates prevented a relapse. Why does that matter so much? It's not because clean time equals bragging rights. The reality is that while sometimes, for some addicts (and I include alcoholics in this umbrella term), a relapse has minimal consequences, for others a relapse could be utterly disastrous, even deadly.
Accountability and Acknowledging Clean and Sober Time
The American Cancer Society (ACS) emphasizes setting a quit date for smoking. The ACS website notes the importance of this step. I believe that if you are serious about undertaking any major endeavor in life, setting a date is an important step. As for my quit dates, I enjoy having something to celebrate each year, and a designated time to reflect on where I've been and where I'm going.
The debate about abstinence versus harm reduction is another topic for another day, and of course, there are always exceptions to the rule. But for most people who desire to stop using a substance, I believe setting and commemorating a quit date is a helpful and life-affirming action.
APA Reference
Lesley, K. (2014, August 11). The Debate Over Setting Quit, Clean and Sobriety Dates, HealthyPlace. Retrieved on 2023, December 11 from https://www.healthyplace.com/blogs/debunkingaddiction/2014/08/debate-over-setting-quit-clean-sobriety-dates
Author: Kira Lesley
[…] Anonymous (AA) and Narcotics Anonymous (NA) both emphasize clean (or sober) dates and time: but does this focus of addiction recovery programs harm or help  group members? This […]
Leave a reply