Addiction Recovery: A Spiritual Perspective
When it comes to recovery from active addiction, there are many approaches and treatments that have been tried over the years (see The Best Way to Quit Using Drugs). Research has shown that addiction is a physiological disease that manifests itself in abnormal behavior. Along with this is the idea that the addict's disease actually began before the individual picked up the first drug.

Addiction: A Dead End Street
When a person succumbs to his addiction, he is often left with a sense of hopelessness. Without some kind of intervention the addict ends up spiraling down into an incredibly deep hole of despair. This was me during my active addiction. I could not see my way out and I was terrified of where my life was headed. Not only was I dealing with addiction, I lived with a co-occurring condition – bipolar disorder. It was at this point in my life that I surrendered and attended my first self-help meeting. Little did I know that this would open up a door to a whole new way of life.
Finding a Higher Power
It was at this time that I began to explore my spiritual condition and I learned that if I was to recover from my debilitated state I would have to connect with some kind of power greater than myself. This helped me to understand that I did not have to fight my addiction all by myself. Through the years I have had lots of help from people who I believe are humanly manifestations of my Higher Power at work in my life.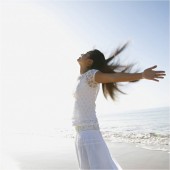 Aiding Recovery Through Spiritual Practice
Many people, me included, attempt to nurture their relationship with their Higher Power through prayer. By doing so, it is possible to elevate one's consciousness and transcend the addictive experience. This practice serve to bolster one's faith and provide a sense of hope that was at one time impossible to imagine. Where once my life was ruled by fear, now I can face each day with the confidence that I can handle whatever comes my way with the help of my Higher Power. In my 25 years of addiction recovery I have had countless experiences that have shown me that God is real. I have no other way of explaining how I could have gone from being suicidal and catatonic 32 years ago to where I am today.
As I previously stated, there are many paths to recovery and this is simply my perspective. But I do know that there are many people recovering from addiction that hold similar beliefs. If you find yourself still struggling with your demons, consider asking for help like I did 25 years ago. As it has been said, all it takes is having faith the size of a mustard seed and you can tell that mountain to move.
APA Reference
Shallowhorn, K. (2013, April 1). Addiction Recovery: A Spiritual Perspective, HealthyPlace. Retrieved on 2023, November 29 from https://www.healthyplace.com/blogs/debunkingaddiction/2013/04/addiction-recovery-a-spiritual-perspective
Author: Karl Shallowhorn, MS, CASAC
Thank you for this article. As one suffering from severe depression and addiction this gives me hope.
This is an inspiring piece. Thanks for sharing your personal experience as well. I absolutely agree with you that connecting with a higher power can elevate our consciousness and overcome the addiction. That's probably why AA 12 step program has been so successful - having the willingness to admit that we are powerless and turn over to a higher power.
Leave a reply