Bipolar Recovery is a Winding Road
Do you ever have those dreams where you run and run and you never get anywhere? I used to have those dreams all the time before I started this quest to bipolar recovery. I felt lost. Like I would never get anywhere. And then I began to follow my own advice to those who had asked for it. I began to believe. I believed that what I wanted wasn't unattainable. This time I ran and smack in the middle of my dream I stopped and smiled. I'm following the road to bipolar recovery and stability and it's a wonderful thing!
[caption id="attachment_479" align="alignright" width="166" caption="Bipolar Recovery is a Winding Road"]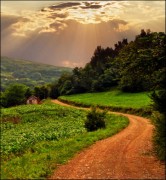 [/caption]
I'm not saying the road isn't easy or there isn't a lot more to run on.
But, I'm happy. My moods are more stable than they've been in over a year. I attribute it to thinking positively and pushing for the correct medications prescribed by my psychiatric nurse. I attribute it to therapy and meditation. Bipolar recovery feels so right. I'm not too high and not too low. I'm just right. I feel like I can achieve my future goals. I'm still waiting to hear from the state hospital for volunteer opportunities and I continue to be involved in NAMI.
Beating Stress
I still have times when I feel like it's not going so perfectly, times when I doubt myself.
I guess it's only natural for it not to be perfect. Nothing in life is perfect. Let's just say that I feel close to perfect. I still have insomnia that I'm dealing with and I will continue to struggle through my day until I can get it worked out. Although I have new medication for my insomnia, I have a sleep deficit. It will take a little while to get it right where I want it. Until then I drink two coffees and a red bull to get me going in my day. I know it's a lot, but it's the only thing that works right now. As soon as my sleep is perfect (or close to it) then I'll drop off the coffees and red bull. Until then it's my saving grace.
So, the road isn't easy, but at least I'm traveling on it.
I believe I'll get there. Bipolar recovery can't be instantaneous. It's a gradual process. But, I'm sure glad that I'm in the middle of it. It feels good to be driving along with the top down. Is your top down?
APA Reference
Fender, C. (2010, April 8). Bipolar Recovery is a Winding Road, HealthyPlace. Retrieved on 2023, December 6 from https://www.healthyplace.com/blogs/bipolarvida/2010/04/bipolar-recovery-is-a-winding-road
Author: Cristina Fender
GLAD YOU ARE FEELING BETTER. KEEP THINKING POSITIVE. I AM NOT BIPOLAR BUT HAVE DEPRESSION AND ANXIETY. I AM ON LEXAPRO AND ATIVAN. IT HAS BEEN HELPNG ME QUITE A BIT BUT SOME DAYS NOT SO GOOD. I AM 70 AND LIVE BY MYSELF, DIVORCED SINCE 1984 AND GET LONELY AT TIMES. I AM STAYING BUSY NOW WITH LOTS OF SPRING CLEANING TO DO. I AM SLEEPING PRETTY WELL, BUT WASN'T FOR A LONG TIME. I PRAY A LOT AND I WILL PRAY FOR YOU ALSO.
LOTS OF LUCK!!! BEV
Thanks for your comment, Beverly. It is important to stay positive. It's something that you have to practice constantly so you will feel better.
Keeping busy doesn't hurt, either!
Cristina
Leave a reply