Saying "No" Causes Anxiety
I am a people pleaser. It is nice to give people what they want and I enjoy taking part in their happiness.
Over the years, I have learned that I have to say "no." As much as I love to please people, it isn't wise to give people everything they want. Sometimes it isn't in their best interest and sometimes it isn't in mine. As someone with an anxiety disorder, it often makes me anxious when I say "no."
The Anxiety-Provoking "No"
Right after I say "no," the uneasiness starts to build. Is the person angry? Should I have said "yes?" Are they turning others against me? The self-doubt, paranoia, and fear sets in immediately.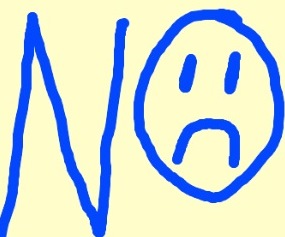 Using typical coping mechanisms help, as they do for most anxiety, but it presents a challenge. I want to avoid as much anxiety as possible, but I also don't want to say "yes" to every request. It is one of the many paradoxes people with anxiety face every day.
The anxiety-provoking "no" is a concern for many of us who live with anxiety and panic disorders. There isn't a simple solution to resolve this issue and we all handle it differently. If you have a suggestion or thought, please feel free to use the comments section to share.
Please watch the video below for more on this topic.
You can find Gabe on Facebook, Twitter, Google+, LinkedIn, and his website.
Author: Gabe Howard