Manage Morning Anxiety: 4 Yummy Healthy Breakfast Ideas
We all know that breakfast is the most important meal of the day. It should never be skipped, even if you are feeling nauseous from morning anxiety (Morning Anxiety 101: 5 Useful Tips). Eating right away when you wake up gets your metabolism going which will help you lose weight, and can regulate blood sugar levels which can relieve morning anxiety.
Here are some yummy but healthy breakfast ideas I have found in The Biggest Loser Family Cookbook:
Morning Anxiety Breakfast 1: Banana Split
On top two banana halves, substitute ice cream with fat-free, sugar-free vanilla yogurt. Add some fresh cut strawberries, a tablespoon of crunchy high fiber, low sugar cereal (such as Grape Nuts) and some fat-free, sugar-free hot fudge.
Your looking at a yummy breakfast that's only 195 calories.
Morning Anxiety Breakfast 2: Smoothies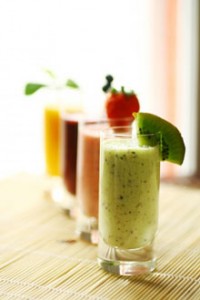 Instead of using fresh fruit and ice cubes to make a smoothie, skip the ice and use frozen fruit. That way you don't have to worry about your fruit going bad or that your smoothie will be too watery. You can use fresh fruit in season and freeze it yourself or you can buy the packaged varieties.
Make your own smoothies instead of going to the smoothie bars. If you look at the nutritional value of their smoothies, they can pack upwards of 600-800 calories and tons of sugar!
Freeze any extra in popsicle makers for treats later. It may also be easier to get your kids to eat them this way.
Ever heard of green smoothies? I hadn't until I saw this video of Robyn from Green Smoothie Girl. It has me very interested since vegetables are really hard to get down any of my family member's throats. I don't think my blender would work but maybe I could throw in a few baby spinach leaves next time...
Here are a couple ideas from realsimple.com:
Morning Anxiety Breakfast Ideas For On-the-Go Families
A Balanced, Easy-to-Assemble Make-Ahead Morning Meal
Grab an apple, wrap 1 to 2 ounces of Cheddar in plastic, and toss ¼ cup of fiber- and protein-rich walnuts into a resealable plastic bag.
A Good Fast Food Choice:
If you must eat fast food in the morning, get an Egg McMuffin at McDonald's. At 300 calories, it's not an outrageous meal. Plus it has a good amount of lean protein from the egg and the Canadian bacon. To trim empty calories, remove the top half of the muffin. For additional fiber, add a fresh orange.
Do you have any morning anxiety breakfast tips or ideas? What are your favorites?
Get more anxiety coping tips: Anxiety Disorders Playlist | https://goo.gl/27Z9kG
APA Reference
White, A. (2010, June 18). Manage Morning Anxiety: 4 Yummy Healthy Breakfast Ideas, HealthyPlace. Retrieved on 2023, December 5 from https://www.healthyplace.com/blogs/anxiety-panic/2010/06/a-few-yummy-healthy-breakfast-ideas
Author: Aimee White