Yoga: Not Just for Women
I love all of the comments that I receive. On my last post about the benefits of yoga, I received a couple of comments I thought were worth discussing. The first is from Sue Best, and she addresses implementing a yoga workout at her office,
"One of my work colleagues organised yoga after work and it is a great success. Some people even fall asleep at the relaxation at the end, which is a wonder, because our workplace is fraught and can be frantic. My colleague is a normal Aussie bloke and the vast majority of attendees are also men who wouldn't miss yoga on a Tuesday afternoon."
I love this idea. For people who work full-time in the office and spend the majority of their time there, what an excellent way to squeeze in that much needed meditation. Implementing a yoga class after or before work hours is a great way to interact more personally with your colleagues and to help others find more peace in their lives.
However, if you are not comfortable with doing yoga with others, you can always do it alone in the privacy of your own office. At ehow, they have some free Office Yoga videos that show you easy ways you can do yoga while sitting in a chair or standing next to your desk. Here is an example of one of them:

Neck Stretch Easy Exercise for Office Yoga
Sue Best's comment also addresses another reader's question. speedtouch asked,
"can men do yoga or is it just for ladies?"
Yoga is not just for women. My one-and-a-half year old loves to do yoga with me. Men can also benefit from adding yoga to their workouts.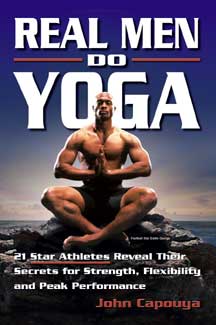 John Capouya has written a book titled Real Men Do Yoga. He lists 21 male star athletes that enthusiastically use yoga in their training routine. He says,
"I've gotten e-mail from men all over the country telling me how much they enjoyed getting started with yoga, how it's improved their flexibility and sports performance and added a whole new dimension to their exercise lives. I really believe the project's success shows that a critical mass of American men is clearly - finally - ready to give it a try and to profit from all of yoga's proven mental, physical and psychological benefits. Many of America's pro athletes who enthusiastically use yoga in their training: football's Eddie George and Shannon Sharpe, baseball's Barry Zito, hoops superstar Kevin Garnett and PGA golfers Ty Tryon and David Duval.
Again, I love the comments and suggestions. Thank you for sharing your stories and questions and ideas. Please keep them coming!
APA Reference
White, A. (2010, March 2). Yoga: Not Just for Women, HealthyPlace. Retrieved on 2023, December 5 from https://www.healthyplace.com/blogs/anxiety-panic/2010/03/yoga-for-workaholics
Author: Aimee White