More Research Needed on Bipolar Disorder in Children
When it comes to bipolar disorder in children, there's an amazing lack of research and professional agreement about diagnosis and treatment of pediatric bipolar disorder.
Focus on diagnosis, but what about treatment?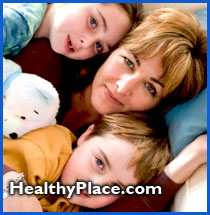 What's an episode? Does irritability include everything from mere whining all the way to ferocious rage? How many types of bipolar disorder in children are there, anyway?
It may surprise CABF (Child and Adolescent Bipolar Foundation) parents to learn that such basic diagnostic questions are still undecided among experts on the front lines of research. Many of them gathered in Boston on April 3rd to seek a common language and explore opportunities for collaboration. The NIMH-funded conference, organized by Dr. Joseph Biederman, drew about a hundred researchers from the U.S. and abroad, and included five CABF parent representatives.
Our impression, as parents, was that the field is moving forward in research on diagnosis - but treatment studies, so badly needed, were disappointingly few. Researchers are developing standardized screening tools, coming closer to agreeing on some common types of bipolar disorder in children, and working on "operationalizing" (agreeing upon standard rating measures for) behavioral symptoms that vary widely in frequency, intensity and duration, such as irritability. These things will help identify children who fall between the cracks in the DSM-IV. However, once a diagnosis is made, the first question parents ask is "what do we do now" and the answers remain elusive, with little data from research about the efficacy, dosing, and side effects of the medications prescribed for our children.
Parents are often astonished to hear their child's doctor ask them, "what would you like to do?" It is painful for parents to learn just how little is known about how to treat pediatric bipolar disorder. Every day parents report on our message boards various combinations of treatments being used - including off-label combinations of medications, herbs, craniosacral massage, nutritional supplements, neurofeedback, the Feingold diet, for which there is little or no research. Parents want to know if they should consider the promising mood stabilizers being used in an increasing number of very young, very ill children, with much success reported on our Web site but with great concerns about side-effects. Preliminary results are showing that the sickest adults in the STEP-BP study subjects age 14 and above are those who had the earliest onset. The majority of children with bipolar disorder in CABF's nearly 20,000 families are 13 and under. The prospect of watching our young children suffer with inadequate treatments while research in adults and older adolescents plods slowly on, hoping that results will "trickle-down" to children, is unacceptable. Recent neuroimaging studies show that more episodes are associated with more structural differences in the brain. With the huge wave of children being identified and presenting for treatment, now that the blinders are off, Congress, the National Institute of Mental Health and the FDA must seize this opportunity to vastly expand treatment research. I can't think of a better investment in our youth, with such an enormous potential payoff in cost savings and reduction of human suffering.
Who will help our Bipolar kids
The house is on fire, and parents are desperate for help to save our beloved children. Yet the fire department, the child psychiatrists, the pediatricians, the psychotherapists, the social workers, those who claim expertise in helping children lack decent tools to quench the flames. What tools they do have, they often don't know how to use. For now, it's up to the bucket brigade, resourceful parents and a few professionals passing information hand to hand, through the Internet, using whatever means are available to save our kids. Meanwhile, the death toll is rising in my neighborhood, an 8th grader with bipolar disorder hung herself a couple of weeks ago, and in Virginia last week a father and model citizen received a light sentence for killing his sleeping bipolar son, age 19, with six bullets to the head. If it feels like we are living on the frontier, it's because we are.
At the Boston meeting, some exciting projects in the areas of genetics research and neuroimaging were conceived, and the spirit of collaboration was definitely in the air. It remains to be seen what new projects will evolve from this meeting. Collaboration is needed not only within this group, but also with researchers in endocrinology, in schizophrenia, in cognitive rehabilitation, in autism, in genetics, in the neurobiology of addiction, and more. Being in the same room with some of the smartest people in science who are working on the illness that devastates our kids' lives was encouraging indeed. We wish the researchers great success. In the meantime, we parents hug our despondent and suicidal kids and reassure them that the fire department is surely on its way.
The scientific conference was organized by Joseph Biederman, M.D., Professor of Psychopharmacology at Harvard Medical School, and funded by the National Institute of Mental Health. CABF board members Rachel Adler, Dorie Geraci, Marcie Lipsitt, Sheila McDonald, and myself participated as parent representatives.
About the author: Martha Hellander, J.D., is the executive director of the Child & Adolescent Bipolar Foundation (CABF).
next: Bipolar Medications in Children: Mood Stabilizers
~ bipolar disorder library
~ all bipolar disorder articles
APA Reference
Staff, H. (2004, April 20). More Research Needed on Bipolar Disorder in Children, HealthyPlace. Retrieved on 2023, December 9 from https://www.healthyplace.com/bipolar-disorder/articles/research-needed-on-bipolar-disorder-in-children
Last Updated: April 3, 2017