Books on Bipolar Disorder
MUST HAVES for people with Bipolar Disorder (Manic Depression)
 

"Bipolar Breakthrough: The Essential Guide to Going Beyond Moodswings to Harness Your Highs, Escape the Cycles of Recurrent Depression, and Thrive with Bipolar II"By: Ronald R. Fieve

Dr. Ronald R. Fieve was a guest on the HealthyPlace Mental Health TV Show. He talked about his experience on treating depression and bipolar disorder I and II.

Blessed with Bipolar
by Richard Jarzynka
buy the book 
Author Richard Jarzynka was our guest on the HealthyPlace Radio Show to talk about the agony of having bipolar disorder and the blessings of this mental illness.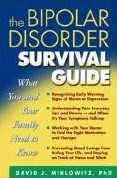 The Bipolar Disorder Survival Guide: What You and Your Family Need to Know
By: David J. Miklowitz
buy the book 
Reader Comment: Simply put, this book has changed my life. After years of being in denial about my illness, or perhaps more correctly-in confusion about my illness, I picked this book up this summer and could not put it down.

Bipolar Disorder: A Guide for Patients and Families, 2nd Edition
By Francis Mark Mondimore M.D.
buy the book 
Reader Comment: Dr. Mondimore covers everything and leaves no stone unturned. He is so in tune with how one with Bipolar disorder feels, it is amazing!

Straight Talk about Psychiatric Medications for Kids, 3rd Edition
By: Timothy E. Wilens
buy the book 
Reader Comment: My hat is off to Jamison for having the guts and being humble enough to admit her problems.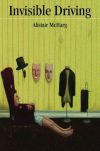 Survival Strategies for Parenting Children with Bipolar Disorder: Innovative parenting and counseling techniques for helping children with bipolar disorder and the conditions that may occur with it
By: George T. Lynn
buy the book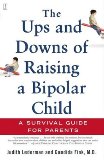 The Ups and Downs of Raising a Bipolar Child : A Survival Guide for Parents
By: Judith Lederman, Candida Fink
buy the book 
Reader Comment:
This book is extremely informative and helpful. I love the "notes from the couch" sections at the end of each chapter.

Loving Someone With Bipolar Disorder
By: Julie A. Fast, John D. Preston
buy the book 

Manic-Depressive Illness: Bipolar Disorders and Recurrent Depression, 2nd Edition
By Frederick K. Goodwin M.D., Kay Redfield Jamison
buy the book 
Reader Comment: This book is everything you need to know about manic-depressive illness that your doctor doesn't have time to tell you.
Brilliant Madness: Living with Manic Depressive Illness
By: Patty Duke
buy the book 
Reader Comment:
Patty helped to break the stereotypes that go along with mental illness.
APA Reference
Gluck, S. (2008, December 18). Books on Bipolar Disorder, HealthyPlace. Retrieved on 2023, December 8 from https://www.healthyplace.com/bipolar-disorder/books/books-on-bipolar-disorder
Last Updated: May 31, 2019