A Member of Your Family is Mentally Ill - What Now?
Once you find out that a family member is mentally ill, what is the next step? How do you cope with mentally illness in the family?
Supporting Someone with Bipolar - For Family and Friends
Introduction
When the movie A Beautiful Mind opened in late December 2001, the mental health community called it a winner. The story of a Nobel Prize-winning mathematician who suffered from schizophrenia and the wife who supported him drew applause from families in similar situations.
"A great leap has been made for consumers who are recovering from this devastating disease," says one couple about the movie on the Web site of the National Alliance for the Mentally Ill. "Our son was diagnosed in 1986."
"I loved this film," says a woman from California. "I am the mother of a 36-year-old son who has schizophrenia and the daughter of a man who also has the disease."
Fifty-four million people have a mental disorder in any given year, according to the Surgeon General's Report on Mental Health. While family caregivers of mentally ill people suffer many of the same stresses as those who take care of family members with, for example, physical disabilities or chronic heart disease - stresses like fatigue, anxiety, frustration, and fear - special problems face mental health caregivers.
Shame and guilt are particularly common, says Nassir Ghaemi, MD, an assistant professor of psychiatry at Harvard and director of the Bipolar Research Program at Cambridge Hospital. Mental illness is more and more being recognized as a biological illness, and therefore carries less stigma than it used to. It's no longer seen as a character defect. But there is a genetic side to it, and that can make many families feel ashamed and guilty.
Julie Totten's father and brother both suffered from clinical depression and she felt isolated from other people as a result. "I wouldn't talk to them about my problems at home because I was too embarrassed," she says, explaining that life at her house was just too different from what she saw at other people's houses.
Mental Illness and Marriage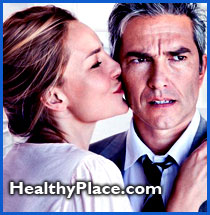 The strains of mental illness on a marriage may be devastating. "There's a very high divorce rate among people who have depression or bipolar disorder," says Ghaemi. "Some spouses aren't able to take care of the other spouse when they're ill. The illness can interfere with the relationship so that the depressed spouse, for instance, can be irritable...The manic patient can have affairs when they're manic."
Treatment for these diseases may also cause problems. For example, drugs like Prozac can affect a person's sexuality and feelings of desire.
Bill N.'s marriage almost collapsed after his wife Missy was diagnosed with bipolar depression 10 years ago, shortly after their first child was born. He says he felt a little resentful that his wife hadn't told him about problems her family had had with mental illness.
Another problem is that during Missy's bad periods, Bill says, she uses all her reserves to cope with the children. According to Bill, there isn't much left for him - "so you have to kind of get used to the fact that you aren't going to get much love or attention or interest."
Bill actually developed a facial tick as a result of the stress, but he joined a support group and also got some individual counseling. This helped him cope until medication eventually improved his wife's condition and they actually felt confident enough to have another child. "Try and realize that things can get better," he says, "but realize that it's a slow process."
Helping Families Cope
"I strongly urge family members to go to support groups," says Ghaemi. "There is some evidence that being a participant in a support group is associated with doing better - having a better outcome with one's illness. But he adds that most research has focused on family support for patients themselves and very little has been done on how family members cope and how their lives are affected.
Totten chose individual therapy to help her cope with her emotions. "I realized that I lacked control, (that) I was scared and anxious all the time...and I was always trying to take care of everybody." She also founded Families for Depression Awareness, a nonprofit organization outside Boston dedicated to helping families understand and deal with mental illness, particularly depression.
"Family members do need to be educated about the mental health system (and) what services are out there, because they certainly do serve as a good resource," says Cecilia Vergaretti of the National Mental Health Association (NMHA).
But remember, mental illness tends to strike in young adulthood, and family members may have little legal or financial control over their loved one. "We would advocate for whatever the adult with the illness wants," says Vergaretti. "Some adults choose to include their families in their treatment plan to different degrees, and others choose not."
Totten's brother committed suicide at 26 after refusing help. She has come to terms with the powerlessness she felt at the time," she says, and has learned to accept boundaries. "I can't do everything for them."
The National Mental Health Association has some tips to help caregivers cope:
Accept feelings like fear, worry, and shame. They are normal and common.
Educate yourself about your loved one's illness.
Establish a support network.
Seek counseling, either on an individual basis or in a group.
Take time out. Schedule time away to keep from becoming frustrated or angry.
next: Mental Illness: Information for Family and Friends
~ bipolar disorder library
~ all bipolar disorder articles
APA Reference
Staff, H. (2008, December 21). A Member of Your Family is Mentally Ill - What Now?, HealthyPlace. Retrieved on 2023, December 9 from https://www.healthyplace.com/bipolar-disorder/articles/member-of-family-is-mentally-ill-what-now
Last Updated: April 6, 2017